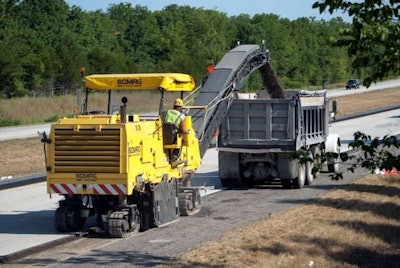 Welcome to the Dealer News Roundup, your one-stop shop for all the moves going on inside the heavy equipment distributor industry. We post a new edition each week with news on hires, promotions, new locations and expansions. Check back for a new edition every Friday!
Ruffridge-Johnson now Bomag road building distributor
Ruffridge-Johnson Equipment Company is now the authorized Bomag road building equipment distributor throughout the majority of Minnesota.
Ruffridge specializes in the sale, rental, and parts and service support of Bomag's broad road building line of milling machines, Cedarapids asphalt pavers, CMI RS and Bomag MPH Series of reclaimer/stabilizers, light and heavy tandem and combination rollers and pneumatic tired rollers.
From asphalt rehabilitation to paving to compaction, Ruffridge is now a one-stop shop for Bomag asphalt equipment. For the rehabilitation contractor, the broad line includes a range of high-performance utility and half-line milling machines, offering cutting widths from 11.8 to 98.4 in.
For the paving contractor, they offer Cedarapids' commercial and mainline pavers, material transfer vehicle and devices, and a full complement of Bomag tandem, combination and pneumatic tired rollers for compacting asphalt mats to spec densities.
Holt Cat purchases part of expanded Cat mining distribution business from Caterpillar
Holt Cat has bought the expanded Cat mining equipment distribution and support business for its respective territory.
As a result, Holt Cat has created a new Mining Solutions Division led by general manager Scott Perlet. The acquisition is part of an $80 million commitment Holt is making in facility upgrades, new buildings, and business expansion across the state of Texas. 47 employees will move from Caterpillar and join Holt's 2,000-plus workforce.
Terex AWP appoints Joe Harper sales territory manager
Terex Aerial Work Platforms has appointed Joe Harper as sales territory manager for Washington, Oregon, Idaho and Montana. Harper will be responsible for supporting customers in the region the development, execution and growth of Genie product sales in these states.
Harper joined Terex in September of 2004 and began his career in the parts warehouse. He moved to inside sales in 2005. He also supervised Domestic Inside Sales and Used Equipment which included process improvements at the Terex Services Waco facility.
Harper was also instrumental in helping the company open the Terex Canada Customer Service Center in Calgary, Alberta.
United Rentals completes expansion of specialty rental operations
United Rentals Power and HVAC branches in Midland, Texas, Calgary, Alberta and Moncton, New Brunswick, will provide engineered power, heating, cooling and ventilation solutions for commercial, industrial and governmental customers, and disaster recovery services.
Paul McDonnell, senior vice president says "We've now met our 2013 target for 18 strategic openings, with more planned for 2014. Each addition to our specialty division enhances the services offered by branches across our network. This is major differentiator for United Rentals – our ability to leverage the full extent of our resources for customers at the point of need."
United Rentals offers expert equipment rental, trench safety, temporary power, climate control, industrial tool and technology services. The company currently has a total of 822 rental branches in North America.
Franklin Equipment opens fourth Ohio branch
Franklin Equipment has announced the opening of its new location in Newcomerstown, Ohio. This new branch will offer equipment rentals for construction and landscaping businesses and for the oil and gas industry. Parts and service for any equipment brand are available.
Franklin Equipment offers rental equipment as well as new and used equipment and parts and service for the full range of construction and landscaping equipment. Products include loader backhoes, skid steers, track loaders, compact excavators, scissor lifts, telehandlers, light equipment, ag equipment and a wide range of attachments.
Antonio Marinucci to join American Equipment & Fabricating as director of sales and research
Soilmec North America has announced the appointment of Antonio Marinucci as its new director of sales and research, effective January 2014. Marinucci's comprehensive career in the geotechnical and foundation construction industry has included managing earth-retaining and micropile construction projects for Schnabel Foundation Company, performing engineering design for structural, foundation and earth retention systems, and conducting academic research in geotechnical and marine geomechanics for his advanced degrees.
United Rentals expands Tools and Industrial Solutions network
United Rentals has announced the further expansion of its specialty branch network with the addition of two locations dedicated to tool management services. The new branches have opened in Plano, Texas, and Cambridge, Ontario, serving the Dallas and Toronto metropolitan areas.
The United Rentals Tools and Industrial Solutions division provides tool management services for short-term and long-term project needs, including maintenance and repair, delivery, computerized tracking and reporting of tools usage. The company offers on-site, secure storage through the rental of a Mobile Tool Room.
Michelin Earthmover increases list of certified performance repair sites
Michelin Earthmover has certified six additional Michelin Professional Earthmover Dealers and has added them to the Michelin Earthmover Performance Repairs program. This brings the total number of repair sites to 17 in the United States and Mexico since the program's inception this past February.
Dealers on this list are accredited with certification through a comprehensive audit of their repair capabilities on these specialized tires. Michelin designed this program to develop consistent, professional and validated repair shops for Earthmover tires. This includes Tech International training, inventory control systems, traceability methods and a proven quality repair process.
The additional sites include Boulevard Tire in Orlando, Florida; Pomps Tire in Elk Grove Village, Illinois; TCi Tire Centers in Kilgore, Texas; Purcell Tire in Salt Lake City, Utah; Inland Tire in Hayward, California; and Kal Tire in Hermosillo, Mexico.