Equipment World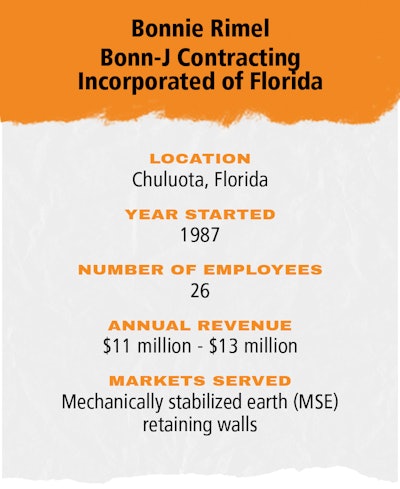 Bonnie Rimel formed her company Bonn-J in 1987 in what she calls "the dark ages of women in construction."
It's not that she needed the challenge at the time. Rimel already had a career that kept her plenty busy, managing a group of 85 W.E. Walker stores, which she describes as "mini Walmarts" back then.
But she heard about MSE walls – mechanically stabilized earth retaining walls -- and that they were newly approved by the Florida Department of Transportation. "It was a great opportunity," she says. "No one else was doing it. I wanted to be the MSE wall builder of Florida."
Rimel adopted her "B.J." nickname (for Bonnie Jean) to form her company name Bonn-J and received her DBE certification. "I'm 100-percent owner; I'm the founder, president and CEO," she says with a chuckle.
Bid lettings in the early days
Rimel recalls the early days of working within an entrenched good-old-boy system, back when contractors would take out hotel rooms in Tallahassee before Florida Department of Transportation bid lettings, vying to be the low bidder on highway projects.
"I'd knock on doors with my quote and they wouldn't open the door, so I would slide it under the door," she says. "After a year or so, it got to where they would let me come in and talk."
The good news was that Bonn-J got its first MSE wall contract. The bad news was due to unforeseen difficulties, it didn't start for three years.
In the meantime, she did anything she could to make the business viable. "I was fortunate to find a crane operator and find some miscellaneous concrete work," Rimel says. "We did fence, rebar, really anything we could do."
At the end of her first year in business, she also got a job with the Hardaway Company doing what she set out to do: install MSE walls.
(MSE walls are composite structures of alternate layers of compacted backfill and soil reinforcement elements fixed to a wall facing.)
"Nobody knew anything about the system," she says, "but they saw I knew what I was doing. I gained two other contracts just from that one job. They were my salvation."
She cites another early supporter. "Back then we used a small rough-terrain crane to set the wall panels, where now we use an excavator," Rimel says. "Carlisle Crane really supported me in the early days when all I had was a home for collateral and a past business career. I rented my cranes from them, and that was a big boost to my success." Carlisle Crane was bought by Maxim Crane Works in 1999.
Equipment World
Long lead times
Bonn-J's scope of work comes later in a project, anywhere from eight months to a year-and-a-half after the bid award. "Our work is so phased," Rimel says. "We may go in and do a third of a wall, and then we must wait for utilities and so on. We're in and out a lot."
In addition to MSE walls, the company installs precast fascia panels that can attach to existing MSE walls to help widen existing roadways. "It's really time consuming since you have to attach to the existing wall," Rimel says. "The construction today is a lot more complicated than when I started out."
Bonn-J casts a wide net; most of its jobs are in Georgia and North Carolina.
Sometimes jobs can be a little too adventurous. When working on the portion of I-75 called "Alligator Alley" in southern Florida, "our men were wading in the water and that's nothing but gator and snake country," Rimel says. "There would be times when my husband would kill four or five moccasins a day."
Rimel's husband and field operations manager, Steve Johnson, passed way in May 2022. Rimel met him on a job, where he was working for another contractor. That contractor wanted her to work on his job, and when she said she was too stretched to do it, he offered her an excavator and two men. One of the men was Steve.
"After being in business alone for three years, it was great to meet Steve, and we got married a year later," she says. "Steve was a great asset in the field. There wasn't anyone who didn't like him. If there was a problem, he was at that site."
"My people have been with me for a long time, and they've really stepped up to the plate this past year," Rimel says. "I'm strong and I've got good people who have supported me."
Pink fleet
Excavators are the primary workhorses of Bonn-J's fleet, followed closely by wheel loaders and dozers. The company also relies on a stable of soil compactors.
But what really sets Bonn-J's fleet apart is its color: pink. Rimel started painting her machines pink in 2009 when she got a $40 million contract on the I-595 job in Fort Lauderdale. "There were two reasons behind this decision," Rimel says. "I was branding the I-595 job. It was my ultimate job."
She also wanted to honor a friend with breast cancer and the fact the company was starting the job in October, which is Breast Cancer Awareness month.
Her fleet's color attracted press. "Our guys were asked what they thought about operating a pink machine," Rimel says. "They'd joke about it and say they weren't going to do it, but they loved it because they got a lot of attention."
And the pink equipment came in handy on the massive $1.8 billion project, which included installing more than 1 million square feet of retaining wall. With crews scattered throughout the 10.5-mile site, "we were working sometimes in 12 places at the same time, but I could always easily find my men," Rimel says. During that time, Bonn-J reached annual revenues of $18 million.
Rimel's pink fleet has become her signature. So much so that when local Cat dealer Ring Power gave her construction equipment models, they were pink.
"Their equipment is always in good shape … and colorful," says Jeff Mairs with client Davis Construction.

Safety key on tight jobsites
"We include a short safety message in our morning meetings," Rimel says, "then each Friday, we have a toolbox talk. It's not just about our work but also other work on a job that's connected to our work."
Safety is paramount because Bonn-J needs its four key machines – excavator, loader, dozer and roller – to work within a small footprint.
"We're right on the road," Rimel explains, "and we have to keep the operation going," which means both backfilling and setting panels in tight quarters. "We're in a limited box, which is a maximum of 120 feet across for most of the project, plus you have trucks backing up and pulling out. There's a lot of coordination that must be done. We've got a lot going on."
But the company has met these challenges with aplomb. Each year since 2001, Bonn-J has received a Florida Transportation Builders Association safety award.

Passion project
Rimel is well-known through her work with FTBA, where she has served as chair and spearheaded an annual golf tournament that has funded almost $1.1 million in scholarships since 2009.
"She's very passionate about it," says Ananth Prasad, FTBA president. "She believes in the mission of what we do in the association and the infrastructure in the state. She has a commitment to the industry."
"You won't find a business owner more dedicated to the overall good of our industry," says Mairs with Davis Construction. "She wants the FTBA scholarships to reach down to the employees whose college-age children's educational opportunities can truly be enhanced. I believe others can learn from Bonnie's tenacity."
"I love being active in FTBA," Rimel says. "I'm just fortunate I know the people I know.
"I don't have power," she adds. "I have relationships."
The Contractor of the Year program, which Caterpillar has sponsored since its inception, recognizes contractors who display the highest standards of business acumen, equipment management expertise, attention to safety and community involvement. Each year, 12 finalists receive an expense-paid trip to Las Vegas to participate in roundtable discussions and an awards ceremony.
Nominate yourself – or a contractor you think we should know about – for the 2024 Contractor of the Year Awards. Submissions are due September 22, 2023. For more information, visit https://www.equipmentworld.com/contractor-of-the-year.