Transcript
Pete Jones didn't know anything about construction upon entering the business in 1994.
With a background in banking, he learned plenty about business operations turning around a fresh-squeezed orange juice company from near bankruptcy to success.
Ironically, it was out of that success and eventual unemployment that led to him founding Protek Construction Inc., a residential and commercial concrete construction business.
His son Michael came to him with the idea of starting a construction company. Not believing it would ever happen, Pete suggested that if Michael could get the license qualifications, he would put up the money.
Against all odds, Michael, who sadly died at age 32, came through with the license and left shortly after. While his son's part of the obligation was concluded, Pete's was only just beginning.
Protek Construction was one of 12 finalists for Equipment World's 2023 Contractor of the Year program.
In the video above, Pete shares the story of how he turned his 10-man crew in Phoenix to the largest concrete contractor based in Kingman, Arizona.
Starting with a wheelbarrow and a shovel in Scottsdale, Arizona, Pete says he learned concrete and construction through the "inspiration of desperation."
Around 2005, he, his wife, and eight crew members moved northwest to Kingman, hoping to become the biggest fish in the pond compared to just another 10-man concrete crew in the Phoenix area.
One general contractor in Mojave County said of Protek Construction today: "There's nobody that can touch them."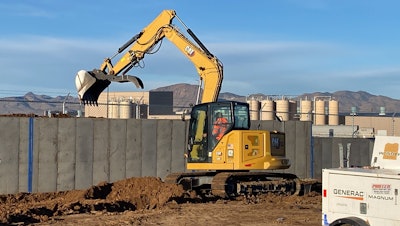 Pete claims Protek Construction is the biggest in the west and northwest of Arizona. Every job they do comes by referral or via former customers.
At 80 years young, Pete acknowledges he's on his way out of the business.
Dennis Hext, Pete's nephew, joined the company about a year and a half ago, taking on Pete's role of office management and bidding. With Dennis and his two field managers, Carl Zorn and Fermin Nunez keeping things going, Pete knows it is just a matter of sorting out a few financial details.
As it stands, Pete comes into the office when he wants to, leaves when he wants to, and by his admission doesn't do much of anything when he is there.
As he steps away, he wants to ensure the business is identified as Protek Construction, a general contractor and concrete construction firm that has a solid office and field management team to handle all your needs.
The Contractor of the Year program, which has been sponsored by Caterpillar since its inception, recognizes contractors who display the highest standards of business acumen, equipment management expertise, attention to safety and community involvement. Each year, 12 finalists receive an expense-paid trip to Las Vegas to participate in roundtable discussions and an awards ceremony. To be notified when the 2024 nomination period opens, click here.
Transcript
Pete Jones (00:00):
One day my son come to me and suggested we start a construction company. I told him I would put up the money if he got the big license, pretty certain that he would not be able to qualify to do that, but he did do it. So, now the other part of the obligation is through, and mine is just beginning.
(00:27):
That was in '94 when I started the company. In 1994, we started off doing high-end residential homes in North Scottsdale for a friend of mine. That's basically how we got the business started, and as time went on, we grew a reliable crew and we started doing commercial work over the period of the next seven or eight years. And in 2005, I decided to move the company to Kingman, Arizona, just a small community in northwest part of the state, because in Phoenix we were just a 10 man concrete crew fighting it out with all the rest of the 10 man concrete crew. So, I wanted to kind of set ourselves apart, maybe become a bigger fish in a smaller pond, and we've been here now 17 years, and it's worked out pretty much the way we anticipated it would. We are now the largest concrete company and we've now begun doing a considerable amount of general contracting work. Also, with the help of some real talented people that we've hired over the years.
(01:27):
We believe strongly in hiring good people, smart people, people with character, and then treating them just like the good people they are. That's how we maintain our people, and we don't hire in volume. When we get ready to hire, it's going to be one or two people. We never take a job that we don't have the personnel on hand for right now, and if we don't have the personnel, we don't take the job. And we also have, over the years, built a real nucleus of high performing people. When they come to work for Protek, they know that's what they're going to do. They're going to work. They're going to be treated fairly, but I expect the same thing of them to me. They're going to treat me fairly also. So, we don't have people who are slowing the process down. We're very efficient. We have the best tools, the best equipment, and we expect all the people to know how to run them to the degree they're capable and if they want to learn how to run a piece of equipment or whatever, we're all for that.
(02:33):
We don't have anything such as a form setter or a finisher. Everybody does everything. If we've got a ditch to dig, everybody does it. If we've got concrete to floor, everyone's involved. So, they all get an opportunity to do different things routinely, and I think that keeps the boredom from being part of their deal. They know that they got to be on their toes because they don't know what they're going to be doing tomorrow, and if they get the opportunity, they want to know how to do it right next time.
(03:12):
Well, I'm 80 years old, so I'm probably kind of already moving out. I tell people that I come in when I want to. I leave when I want to, and I don't do anything while I'm here. So, I'm pretty well already retire. So, I'm probably going to be looking to sell. Dennis Hext, my nephew has come on board. He's been here for about a year and a half now, and he's basically fulfilling the duties that I did before he got here. He would like to buy the company at some point in time in the future. And such time that we figure out the financial situation on that, well, that will probably happen.
(03:47):
In terms of growth of the company, really the only thing that I think we would like to do going forward is to pierce the tilt building market. We've not done any tilt buildings. We've done large buildings, 250,000 square feet. FedEx is an example we just finished, but we haven't done any tilts. We had priced a couple of them recently, which we think will come to fruition, but we're in a real thriving market right now. In fact, living here in Kingman right now, I would say that we have more work than we're capable. We're pushing work out through September, up to September of next year. Right now, we're basically booked up, so we're looking great. We feel very confident in our ability to continue to grow. The company did just about 10 million last year. I think that number could be slightly bigger.
(04:41):
If you'll do what you say you're going to do and remember, the truth is very important. You'll learn those two things. The quicker you learn those in life, the easier things are going to get for you. I mean, for me, right now, life is just, it's a bowl of cherries. I mean, I don't have any problems at all because that's the way I've lived my life now for 20 years, 25 years. Like I said, you don't learn it typically when you're young. You have to wait and see what the advantages are of doing that. But it's true. Just do what you say you're going to do and remember the truth is really important. If you'll just abide by those simple things, God, it gets so much easier.