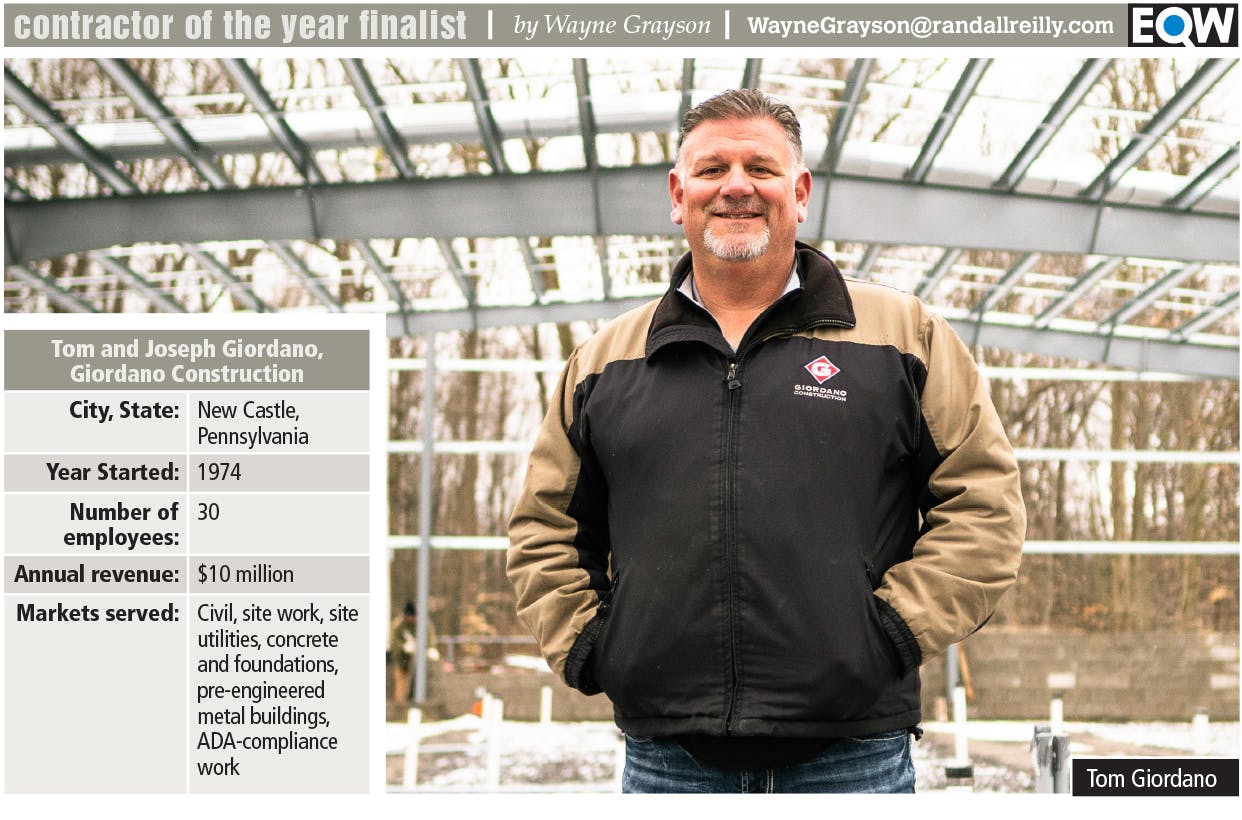 "We're known for top quality," says Tom Giordano from behind his desk. "We're not known for being cheap. I tell people that call here for a bid the same thing."
Giordano is the co-owner and vice president of Giordano Construction of New Castle, Pennsylvania. His father and company president, Joseph, started the company in 1974 before handing off oversight of daily operations to Tom in 1999. Over the last 46 years, the Giordanos have built a company that values attention to detail and taking excellent care of its customers.
The company was a finalist for Equipment World's 2020 Contractor of the Year Award and was the winner of the competition's Safety Award.
"Dad's theory always was, if a customer is paying for a 6-inch concrete floor, it better be 7 inches when we're done with it before it's 5 ½," Giordano says. "We will never do anything that could cheat a customer."
Beginnings
Before he was a contractor, Joseph Giordano was a millwright at Sharon Steel in Sharon, Pennsylvania. For extra cash, he started wiring houses on the weekend, and in the mid-1970s decided to leave the mill and become a homebuilder.
As he was building his company, Joseph raised Tom with an exposure to everything the construction industry had to offer. "I started working for my dad at a young age, and he made sure I learned all the trades, from operating a shovel, to welding, to trim carpentry and electrical," Tom Giordano says. "I was an electrician for four or five years, but I enjoyed the site work and concrete foundations the most."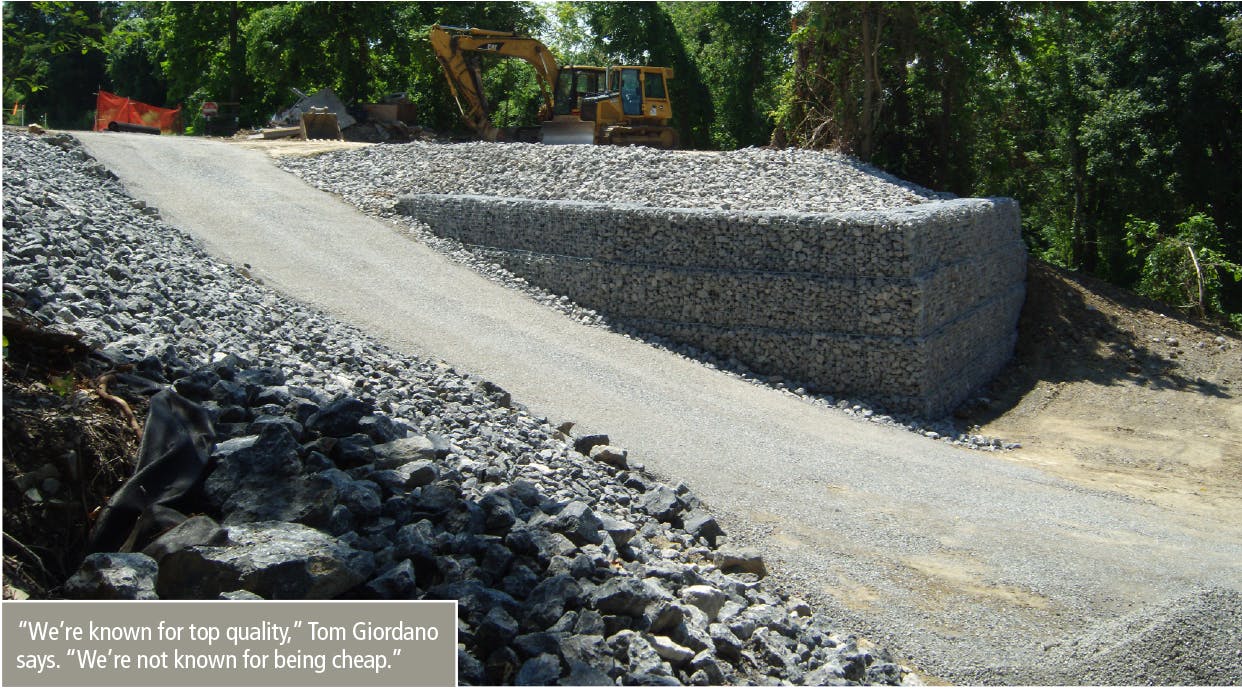 Over the next 10 years, the homebuilding slowly gave way to commercial and industrial concrete work for the Giordanos. In the 1980s the company was still subbing out excavation work. But in 1992 the company took its first major growth step when it started performing cell tower carrier installations. Giordano was a key contractor in many states that built out entire markets for Nextel, Sprint and AT&T, as well as two of the largest vertical real estate companies in tower owners Crown Castle Communications and SBA.
The move meant doing their own excavation work, and in 1997 the company started buying larger excavators, including a Cat 315BL, in addition to a D5 dozer and a 433 roller. Today the company's equipment fleet has more than 30 pieces.
Cellphone tower construction became the company's foremost money maker. By 2001, Tom Giordano says, 80 percent of the company's revenue came from these projects as the company's crews performed installations throughout the country. However, in 2001 the work became less desirable for the Giordanos as carriers started paying less.
"That year we went from 130 to 40 employees due to the dip in telecom work," Giordano says.
Versatility key
The company pivoted into more commercial and industrial work while doing fewer cell tower jobs. In 2019 it stopped doing cell tower carrier installations, though it still performs modifications on existing towers and builds a few new towers each year.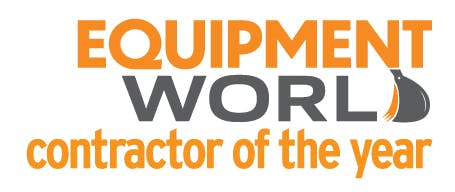 "Our guys were versatile and the equipment was versatile. That's what made the change work," Giordano says.
Today, the company employs 30 workers and performs civil site work, concrete work, demolition, metal building installation, and foundation work. Following its transition from telecom work, the company built a key relationship with First Energy, a major electric utility corporation based in Akron, Ohio.
"We started just doing repair work for them. They liked how we were doing it and how neat everything was, and it just grew from there to yard restorations to building whole substations for them," Giordano says.
The company brought in $10 million in revenues for 2019 and is hoping to get into more large earthwork jobs.
Finding new talent a struggle
Giordano says the main challenge the company faces is hiring new employees.
"Kids nowadays will quit a job without having somewhere to go," he says. "I advertised for a truck driver for nine months. I got one application, and there was a 15-year gap in their work experience."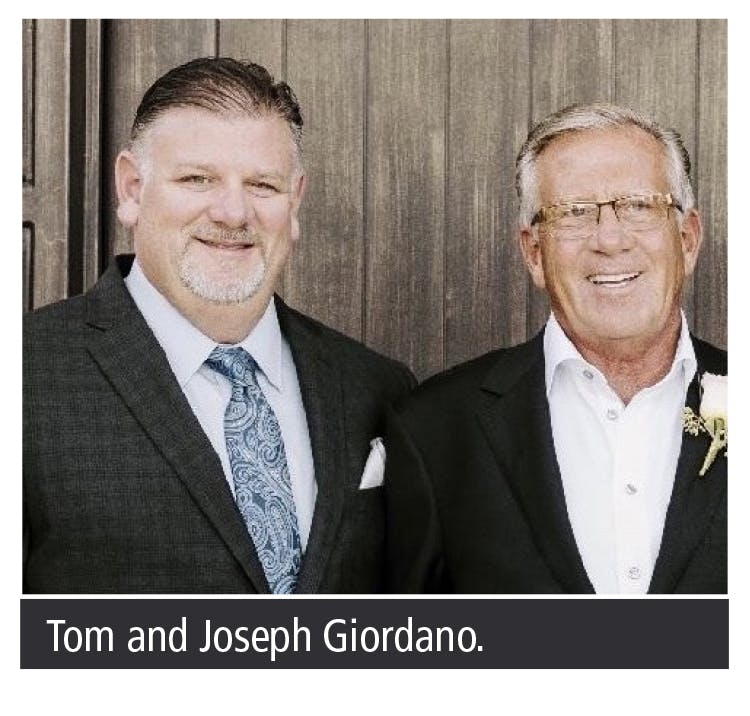 Giordano has also coordinated with a local trade school for new hires. "I call them up and they send me resumes. During the summer we typically work about 50 hours a week, and one guy from there tells me, 'Whoa, I don't want to work that much. I want to work 30 hours each week,'" he recalls.
Giordano says the company prides itself on full benefits, good pay, high-quality safety gear and clothing. But it hasn't been enough to attract enough young workers that will stick around.
"We have guys that have been here 20 and 25 years. All of our superintendents and foremen have been with us a long time. They're very talented and they could go anywhere, and they choose to work here," he says. "I would like to think that is due to how they are treated and respected."
Impeccable safety
With all of the industrial work the company performs, safety certifications and a clean record are a primary ingredient to success. To ensure it can work with as many industrial clients as possible, Giordano holds safety qualifications through ISNetworld, BROWZ and Avetta.
The company also uses Lancaster Safety as a third-party consultant.
Their impeccable record and reputation for safety is why Equipment World tapped Giordano as our 2020 Contractor of the Year Safety Award winner.
"The first year, Lancaster came in and set up our policy books on every task. They do a yearly training and they provide general safety training. Then they also provide training on specific machines," Tom Giordano says.
Lancaster also visits Giordano jobsites four times each year and provides an assessment of the company's safety practices, before advising them on any areas that need to improve or change.
In addition to the certifications and consultant, Randy Angelucci serves as Giordano's in-office safety manager. Angelucci does site inspections of his own and manages jobsite awareness forms, PPE inspections, daily toolbox topics and more.
"Some of our customers have on-site safety there all the time too," Giordano says. "And they can drug test 20 percent of your workforce each week and they do. So you've got two to three guys they're checking out every week, and I don't have a problem with that. That's how I expect it to be. That's why they get the benefits they get and the pay that they're paid. I want the highest quality guys I can get."
The company's lost time incident rate is 0.0003 and its experience mod rate is 0.79.
"We went eight years without a lost time accident until a broken finger in 2017," Giordano says. "Since then we've been good."
Clients and vendors offered up glowing endorsements of the company.
"We have probably done 20 jobs together from things that are smaller in scope to things that are larger in scope and everything in between and I have not ever had to call him out for any rework," says Dave Cochenour of First Energy. "Because of their reputation when we have emergency work they're they first firm that I call because I know that they will be there and that they will get it done for what they say it's going to cost."
"It has been many years since our office buildings were renovated by Tom and Giordano Construction," says Amy Carbone of Treloar & Heisel. "Still to this day we reach out to Tom for advice or recommendations for any type of problem or maintenance issue we may be having. He always takes our calls and emails and gets back to us in a timely fashion. He has even sent his crew out to help us in a pinch at no charge. He really is honest and can be trusted. You can tell he cares."
The Contractor of the Year program has been sponsored by Caterpillar for 21 years. For more information, click here.