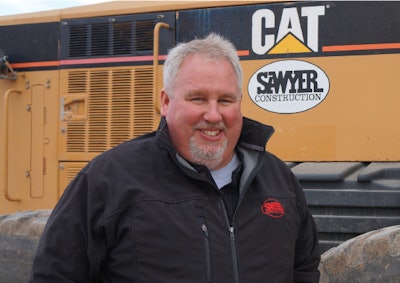 Marka Sawyer tells a story about her son, Tom: "When we put him on a bus to go to his first day of kindergarten, he got upset. 'I don't want to go to school,' he said. 'I want to stay and work with dad!'"
For Tom Sawyer, it's always been about construction. His grandfather and father were in the business.
"It's all I ever knew," he says, "and there wasn't any doubt about what I was going to do."
He went from working summers in high school to working full-time after he graduated, "doing whatever needed to be done," he says, adding with a laugh: "I ended up being the boss, whether I liked it or not."
That work ethic inevitably led to his taking over the reins of Sawyer Construction from his parents Tom Sr. and Marka Sawyer in 2005. Throughout the generational changes, the family firm has stayed at the same location in Fremont since 1955, adding on to the building on Cloverly Road three times.
The $4 million-to-$5 million company now does concrete paving, grading and utility installation for both governmental and commercial clients within a 100-mile radius.
"We want to get everyone home every night," Tom says.
Love for the equipment
Part of the attraction of construction for Tom was his love for the equipment. "I'd operate anything," he says. The Sawyer fleet includes excavators, backhoes and skid steers, and Tom uses a mixture of new, used and rental acquisition strategies.
For instance, he tends to buy compact equipment new. "It gets more abuse and you get the warranty," he explains. "But we're buying bigger equipment than we used to because our growth has led to larger jobs."
On the other hand, Sawyer tends to rent compactors. "We'll need different sizes on different jobs, and it's not a machine we can use throughout the year," he explains.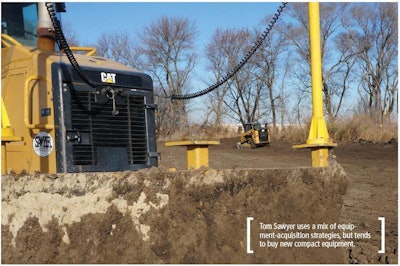 He relies on dealers for both major repairs and preventive maintenance, finding that approach helps the company stay on top of things. "We were not getting things done in-house because it was too easy to say, 'We'll do it tomorrow,'" he says.
That dealer support was critical one winter when a Sawyer Construction motor grader broke down one night – in a blizzard. "They came out to help us get going. The fuel pump had gone out, and Nebraska Machinery had the part in the next morning," he says.
He appreciates the technology available on today's equipment. "We wouldn't be where we are today without GPS," he says. "It's allowed us to grow tremendously and has significantly upped our production. It was a major decision to get it, because it cost so much, but it was worth every penny."
Although the GPS learning curve still has its challenges, the technology allowed Sawyer Construction to take on bigger jobs without adding people. "It takes some labor out of the equation," he says.
Work all winter
The key to keeping high-level labor in Fremont, Nebraska, is offering work all winter long, Tom says. "We don't have a lot of turnover. We keep our people. If you've got good people, even when some winters have been pretty tough, things always get better."
This attitude helped Sawyer Construction weather the Great Recession. In fact, the company was able to grow each year. Fortunately, Fremont was somewhat insulated from the hard hits other areas took. The local hospital built a $50 million addition, and there were projects at the Hormel plant in town.
Repeat clients
Tom believes he has repeat clients because he tells them how it is, and many times, that's not exactly what they want to hear. It's something his clients have noticed.
"Tom always takes the high road when there are conflicts," says Steve Dodd, with Dodd Engineering. "I've been present when he's had to deal with difficult customers. He's always shown great composure and restraint in those situations."
Adds Kevin Peterson, with NMC Cat: "I think Tom could teach other contractors how to work with engineers and other subs on a site, especially when they run into problems."
Says Paul Gifford, with Gifford Realty: "In the past five years, Sawyer Construction has grown each month in equipment, employees and jobs. They have a bright future… He shows that aggressive growth is possible with good management."
As for the future, Tom says the company is on a steady course of growth. "We'll keep the same mentality we now have moving forward, continuing to grow a bit each year," he says. "We're just a little more visible now than we used to be."