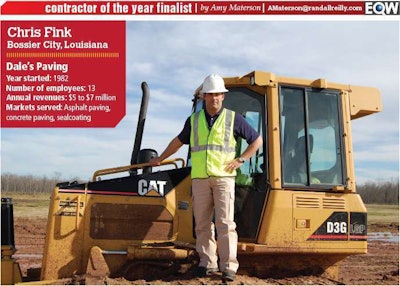 Operating the business started by his late father Dale, third-generation contractor Chris Fink knows a thing or two about paving. Performing a mix of public and private work; residential and commercial, Chris is known throughout the Shreveport area as being a leader and a go-getter. With the help of his wife, Tracey, who handles much of the back office work, Chris has taken the company far beyond what his father would have ever expected.
The value of diversification
When Dale Fink was running Dale's Paving, the company handled asphalt projects only. He had worked with Chris' grandfather W.S. Bowman, who erected asphalt plants across the country and worked for another local paver, Roy Cook and Sons (papaw Bowman left Cook in 1968). Leaving Cook in 1982, Dale formed his company and began building a reputation as a skilled and meticulous contractor. He laid a solid foundation for the company, developing an impeccable reputation and sticking to a narrow scope of work that he excelled in.
As Chris took over the leadership of the company, he had a vision of expanding into markets his father wouldn't traditionally have been interested in pursuing. Gone were the days when the company wouldn't branch out into concrete. Chris aggressively pursued clients in the concrete market, says Tommy King of Builders Supply, who has sold Dale's Paving concrete for more than 10 years. "He's just one of those young men who is not afraid to diversify and do what he needs to do to improve in this industry and this market," he says.
Although diversifying into concrete was a natural progression for the business, Chris has also taken some non-traditional paths that, at first glance, might not seem like a natural fit. For example, Chris and Tracey owned River Cities Express Car Wash, a business that wouldn't seem to align with his construction company. It turns out, Chris performed all the maintenance and repair work for a number of car washes in Bossier City, and he thought he could run one just as well as the next guy. He built the car wash from the ground up, and today it's a slick, professional operation that complements his contracting business.
Successful strategies
Chris has his hands full with concrete and asphalt work. "Shreveport is recession-proof," he says. "I'm so excited about everything that's coming up; I've never been so excited. Every year has been our best year." His numbers bear out his confidence – although Dale's Paving averages a 5-percent growth rate from year to year, last year the company experienced a 33-percent growth rate.
There's a variety of reasons Dale's Paving is operating at such a high level. The company has maintained the stellar reputation earned by Chris' father, and many of the original clients call Chris when they need new paving work or sealcoating. Dale kept meticulous handwritten records on every job. Today, when Chris is called upon to perform work on one of his father's original jobs, he has all of Dale's notes and records available. He's currently working on converting the old paper records to computerized versions.
Chris and Tracey are also consummate marketers. Chris explains that he likes to display his work, so he not only maintains a website, but is active on social media sites such as Facebook, and notes that he often receives new business via avenues such as Angie's List. He also acknowledges he's both competitive and aggressive. "I baby a project, though," he says. "I send guys over to check on things without the owner having to ask, and I kill everyone with kindness."
He's also careful with equipment purchases, and has carried over his father's strategy of snapping up good pieces at auction. "Daddy bought at auction," he says. "I never have any trouble finding and buying good used pieces."
Perhaps one of the most important ingredients in the company's recipe for success is the relationship the Finks have with their employees. Happy, long-term and stable, the employees take pride in their work. Foreman Mark Tipell, a 25-year veteran of Dale's Paving, makes no bones about what kind of company he works for. "Our quality of work is just better than our competitors," he says. "We get calls all the time telling us so."
Chris repays their loyalty by treating the employees with respect and giving regular perks, such as incentive pay. The crew leaders have company credit cards, which Chris occasionally tells them to use to take their wives out for a nice dinner. "He's great to work for," says foreman Dean Coolbeth. "He always gives us what we need to get the job done. He's also approachable. We can go to him if we have a problem. All of the guys respect him because he spent time with a shovel just like everyone else."
Dale's Paving even has an 83-year-old truck driver, Charlie "Pop" Williams. At one point, Pop decided to retire, but only stayed retired for six months before he called Chris wanting to come back to work. "He runs circles around the young guys," Chris laughs.
Retaining the reputation
Seeing the value his father's sterling reputation brought to the company, Chris strives to maintain the same goodwill. He has transitioned that attitude to his personal life, as well, becoming active in the Shreveport community. He became a volunteer firefighter at the age of 16, and is still involved with the department. He serves on a range of boards, associations, committees and councils. As the parent of three young children – 12-year-old Caeden and 9-year-old twins Carley and Cameron – he's interested in youth activities. He's even coaching a youth football team, which went undefeated in 2012 and won the Bossier Bowl.
Chris has also served as a mentor to those who want to follow in his footsteps, giving advice to those who ask. "Start small – don't shoot for the sky right out of the gate," he says. "I gave this guy advice and he's taken it and run with it. Although he was scared to death, he ended up with a maintenance and patching business, and told me he was glad he listened to me."
New challenges
Although Chris has made a range of sound business decisions that have enabled the company to diversify and expand, one of his real goals is to take on projects that interest him, saying he'll take on anything from a $500 driveway to a million dollar paving project, as long as he likes the job.
"I never wanted to do anything else," he says. "I knew my very first summer that this was all I wanted to do. If you made a cologne that smelled like asphalt, I'd wear it every day."