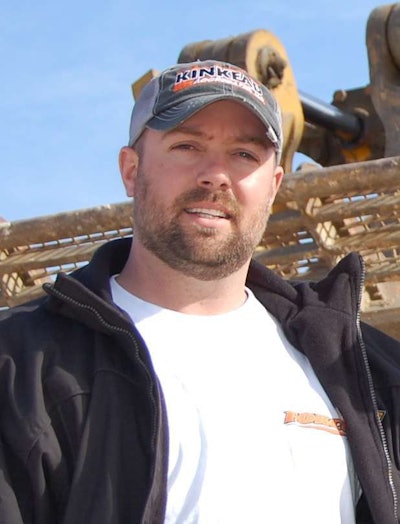 An out-of-the ordinary success story catches the attention of magazine editors
LAS VEGAS, March 2011 – Bryan Force, owner of Force Inc., based in Indiana, Pennsylvania, won the 11th annual Contractor of the Year award sponsored by construction equipment manufacturer Caterpillar and leading national trade magazine Equipment World during a March 5 at Caesars Palace in Las Vegas.
Force was chosen by the magazine's editors for his dedication to growing his company, his passion for maintaining an excellent equipment fleet, his commitment to his clients and smart business practices.
Although his father had lined up a job for him at the local power plant, Bryan had other ideas. On his 18th birthday, he got his CDL and bought a used truck. Once his father found out Bryan planned to go into construction, he left Bryan a voice mail so heated that he saved it for several years to remind him of his commitment. He began hauling water to gas well drilling sites, and never turned down a job. He amassed a fleet of equipment and eventually developed his own aggregates operation, growing his business into a $15 million firm.
To determine the winner of each year's Contractor of the Year program, Equipment World's editors spend a day interviewing the candidates and visiting their crews and sites. They also evaluate comments made by the contractor's references listed on the application form. Some of the accolades editors heard about Force included "he is not afraid to go after what he wants," "he dove right in and is doing extremely well," and "he is really out of the ordinary, a real success story."
All finalists received a four-day trip to Las Vegas and attended the NASCAR Sprint Cup race courtesy of Caterpillar, sponsor of the No. 31 Caterpillar Chevrolet, driven by Jeff Burton for Richard Childress Racing.
"Equipment World magazine is honored to recognize the integrity, hard work, and dedication of Bryan and the folks at Force, Inc.," said Dan Tidwell, senior vice president, group publisher of Equipment World magazine. "He and the other 11 finalists as a group represent the best of the construction industry. Their success is evidence of the perseverance, drive and strong values they embody."
Now in its 11th year, the Contractor of the Year is sponsored by Caterpillar, the world's largest maker of construction and mining equipment; Caterpillar Safety Services, which offers an extensive offering of industry-specific safety resources, and Equipment World magazine, the construction industry's leading trade publication.