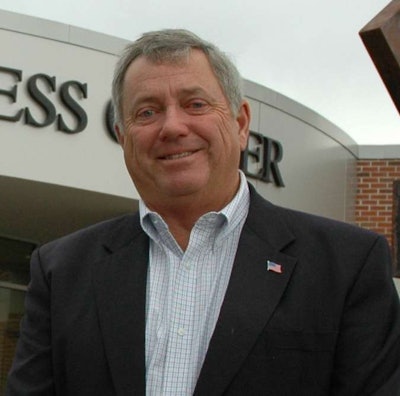 Owner of Johnson City, Tennessee-based construction firm honored for business achievements and industry representation
LAS VEGAS, March 2011 – Thomas Burleson, owner of Burleson Construction based in Johnson City, Tennessee, is among 12 national finalists for Contractor of the Year 2011, sponsored by construction equipment manufacturer Caterpillar and leading construction trade magazine Equipment World. Burleson attended the awards banquet March 5, in Las Vegas, where the top honor of Contractor of the Year was announced.
Each Contractor of the Year finalist is selected on the basis of company achievements, endorsements from customers and vendors and the contributions the company has made to the construction industry.
Burleson Construction specializes in commercial building projects. Equipment World editors heard a variety of accolades when considering Burleson, including "we use him because of his integrity. He'll ask tough questions," "I always use Tommy because I know the end result will be a building of excellence."
All finalists received a four-day trip to Las Vegas and attended the NASCAR Sprint Cup race courtesy of Caterpillar, sponsor of No. 31, driven by Jeff Burton for Richard Childress Racing.
"Equipment World magazine is honored to recognize the integrity, hard work, and dedication of these exemplary men and women," said Dan Tidwell, vice president, group publisher of Equipment World magazine. "This group of finalists represents the best of the construction industry. Their success is evidence of the perseverance, drive and strong values they embody."
Now in its 11th year, the Contractor of the Year is sponsored by Caterpillar, the world's largest maker of construction and mining equipment; Caterpillar Safety Services, which offers an extensive offering of free industry-specific safety resources, and Equipment World magazine, the construction industry's leading trade publication.