The TL8R2 is Takeuchi's latest compact track loader and represents a redesign of the previous generation TL8R. In this video we break down everything that's new on this CTL, including how the new Creep Mode works. Check it out below.
---
---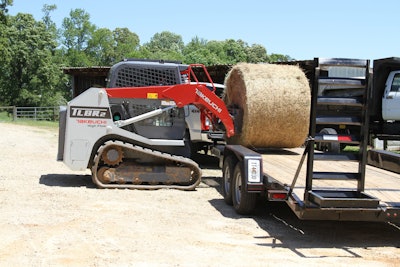 Six years ago, Takeuchi introduced the TL8 compact track loader. It was part of a CTL lineup refresh for the company which included a new naming convention as the TL8—a roughly 8,500-pound machine—was replacing a loader called the TL230 Series 2.
And while that exact same TL8 is still available, in the time since its introduction Takeuchi began selling another model, the TL8R—a slightly heavier, slightly more powerful model with a few more checkboxes ticked.
Now Takeuchi says it has taken the TL8R and completely redesigned it. The result is the TL8R2, a new radial lift CTL that Takeuchi says amounts to a major upgrade.
High Flow and New Creep Mode
The TL8R2 sits right in the middle of Takeuchi's CTL lineup with two smaller models beneath it, and three larger models above it. And as a middle child, Takeuchi says the TL8R2 is designed with versatility in mind.
The company says this loader can handle a wide variety of applications. Speaking of various applications, while the standard auxiliary hydraulic flow on this machine is 19.1 gallons per minute, a high flow option is available that delivers 33.8 gallons per minute at 3,045 psi.
And if you opt for the high flow configuration, Takeuchi throws in a new Creep Mode. So if you've got an attachment like a trencher, tiller , mower, cold planer—or any other tool that requires a consistent and repeatable travel speed—you can throw the TL8R2 into this new Creep Mode and that will allow you to match the forward speed of the machine exactly to your attachment without having to meter the travel lever.
Creep mode is activated by pulling and holding the trigger on the left hand joystick until a green Snail icon appears on the monitor. Once activated, in terms of being able to precisely dial that speed in, creep mode allows you to select a speed from .09 mph to 3.11 mph in a range comprised of 20 speed increments.
And once you've got that speed locked in, you can push all the way forward or all the way backward on the joystick and the machine will only move forward or backward at the set speed.
Another pull and hold cancels the mode.
Hydraulics, Engine Power & Performance
Getting into a bit more hydraulic detail, the TL8R2 has a flat-faced, pressure relieving coupler block with half-inch couplers, case drain and a standard 14-pin connector. In terms of attachment coupling, you'll get a mechanical universal quick attach if your machine has a canopy while machines with a cab get a hydraulic quick attach.
With hydraulics covered, let's talk about engine power. The TL8R2 has the same 74.3 horsepower and 192 lb-ft torque ratings as the TL8 below it in the lineup— which makes sense since they have the same turbocharged Tier 4 Final Kubota V3307-CR engine with a DOC and a DPF.
Like I said earlier, this machine is a bit heavier than the TL8, weighing in at either 8,807 or 9,182 pounds, for the canopy and cab configurations respectively. The TL8 weighs in at 8,455 pounds or 8,631 pounds.
In terms of lifting performance, the TL8R2's radial lift design offers a tipping load of 6,041 pounds while rated operating capacity at 35 percent of tipping is 2,116 pounds.
The TL8R2 has a fully-welded, one-piece loader frame and as part of the machine's durability-focused design, Takeuchi has implemented adjustable loader arm stops which transfer shocks and the weight of the load into the frame of the machine rather than through the loader arms themselves to increase the machine's lifespan.
Bucket breakout force is 6,204 pounds, lift arm breakout force is 5,957 pounds and traction force is a very capable 9,733 pounds thanks to double reduction planetary drives. Top speed on this machine 7 miles per hour.
Undercarriage design
Moving on to the undercarriage, this is an open frame design with multiple integrated cross members that Takeuchi says isn't just a strong design but also one that is easier to clean out.
Plus, Takeuchi says it designs undercarriage components that are specific to each of its CTL models. That means each undercarriage is purpose-built for the specific capabilities of that model.
This undercarriage also features a combination of double and triple flange rollers that maintain contact points between the track and the rollers in order to prevent de-tracking. The rollers are permanently sealed to keep out dirt and other contaminants.
Unlike the TL8, which offers two track width options, the TL8R2 offers only a single 15.7-inch rubber track. With that track ground pressure is 4.5 psi if you've got a canopy and 4.6 psi if you've got a cab.
Cab
Speaking of the pressurized cab, as we've pointed out, it is an available option. It comes equipped with a roll-up door, air conditioning, heating, defrost and a front wiper. You'll also find an AM/FM radio with bluetooth for connecting your phone.
No matter if you go for the cab or the canopy configuration, Takeuchi says it has equipped the TL8R2's operator's station with automotive style comfort features, including a new 5.7-inch color screen which can display machine operation data and the view from the rearview camera.
You'll also find a sealed rocker switch bank, low-effort pilot controls and proportional auxiliary switches.
Maintenance
Moving on to maintenance, the TL8R2 features a large, lockable service hood and a heavy duty steel door to provide access to and protection of critical machine components.
The rear door gives you access to the side-by-side, swing-out cooling module. The rear of the machine also gives you access to your daily maintenance points including the engine oil dipstick, engine oil fill, air cleaners, hydraulic oil sight gauge, and the fuel water separator.
If you tilt the cab up, you get access to the hydraulic components, the aftertreatment system, the front half of the engine and the hydraulic pumps. Access for the hydraulic tank and filter are found in the right rear tower of the machine.
The machine also features large removable belly pans for debris clean out.