Manitou Group is known in the United States for its telehandlers and forklifts, and now the company plans for the Manitou brand name to also resonate with buyers of compact construction equipment.
The company is currently launching a Manitou compact equipment line worldwide, including in North America. The nine compact track loader models, 10 skid steer models and two articulated wheel loader models will be identical to those the company offers under the brand names Gehl and Mustang (renamed "Mustang by Manitou" last year).
But unlike the yellow machines of Gehl and Mustang by Manitou, the Manitou equipment will feature the company's trademark red and carry the Manitou name.
All three brands are manufactured in the same U.S. factories in South Dakota and Texas and share common chassis and components.
Rick Alton, president of Manitou Group's Compact Equipment Products division, said that during the first step of the Manitou brand introduction, the machines will remain similar, but over time, that could change, depending on the market and customer demands.
"As the brand penetration continues to grow," he says, "I would expect us to better understand those different attributes better of what makes each brand unique … and to continually integrate those elements into product development in future years."
Expanding brand and distribution
Manitou Group is a global company based in France and purchased Gehl in 2008, which was 11 years after Gehl bought Mustang. All three brands have mostly separate and distinct distribution networks.
Though they are virtually the same machines, Gehl equipment has sometimes been more associated with agricultural uses, and Mustang viewed as more for construction applications. And they are brands well-known in the United States, particularly the Midwest where they are manufactured.
The Manitou brand, which has a much stronger presence in Europe than in North America, is known globally for its forklifts, telehandlers and aerial work platforms.
Adding Manitou to the compact equipment mix makes sense for the company as it seeks to bolster sales in Europe, North America and around the globe, Alton says.
The company first launched Manitou brand compact equipment in Europe earlier this year to leverage the strength of its dealer network. Dealers can now offer customers loyal to the Manitou brand the company's skid, track and articulated loaders.
The same now holds true for Manitou dealers in North America. "Though that distribution network is growing, I think it's quite powerful," Alton says.
Vice President of Sales Eric Burkhammer says the Manitou brand is stronger in North America than many might expect, and the question is how to build on that.
"I think the Manitou side could grow in a lot of areas, especially with dealers that have been successful with the unique Manitou features," Burkhammer says.
For example, says Brian Rabe, regional training manager, "A dealer that has always sold Manitou telehandlers now can access the compact equipment."
The company also appears ready to maintain all three brands for the future and allow the distribution characteristics and end customers to select the right Manitou products to offer in the marketplace. "Our strategic plan will ensure every customer has the product they want for their needs," Burkhammer says. "It's about supporting more of what makes sense to the customer."
Alton says the Manitou brand in North America should grow in tandem with the growth of its distribution network here.
"The Manitou brand is very distinctive; it's very influential; it's very robust in Europe," he adds. "We want to make sure that we're leveraging that and being able to communicate that brand promise within the North American markets, too."
Increasing North American presence
The compact equipment introduction is the latest in a quiet effort by Manitou to raise its presence in North America. Last year it introduced its lineup of aerial work platforms, which already meets new American National Standards Institute guidelines that take effect in December in the United States. Similar standards have long been in effect in the European market.
Alton said the new U.S. standards didn't drive the decision to introduce aerial lifts here, but it did provide some validation.
"Our products were already at the leading edge of being ANSI-compliant before the new regulations were established," he says. "We're ready to go."
He acknowledges that the company is up against an aerial-lift market dominated by companies that already have a major presence in the United States, such as Genie and JLG; so the company has focused on ensuring it has the right customer base, product support and training.
"I think we've taken the right steps in making sure that we've refocused on being the best before we get bigger," he says.
The company also added its moniker to the Mustang brand last year, raising the Manitou name in North America while also helping the Mustang name abroad.
"I think it allows the Mustang brand to continue to have its unique identity," he says, "but it also gives a very strong foundation that cohabitates the two brands and makes a link to all the things that Manitou brings to the table in terms of innovation, quality and safety."
Compact innovation
At Manitou's North American headquarters in West Bend, Wisconsin, the company recently displayed its new Manitou CTLs and skid steers alongside their Gehl and Mustang by Manitou counterparts.
Leading a walkaround of the machines, Rabe pointed out several recent innovations: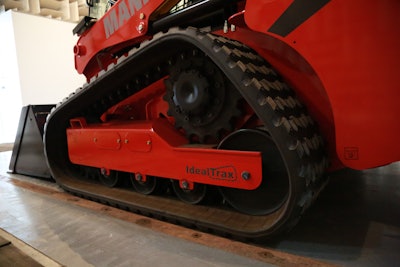 IdealTrax – The company's patented automatic track-tension system does away with the grease cylinder, replacing it with a hydraulic center that uses the hydraulic system to achieve the correct tension at all times. Along with extending track life, the system prevents detracking and results in more efficient operation.
Rabe explains that the properly tensioned tracks can use up to 90 percent less engine horsepower during counter-rotation than overtensioned tracks, which saves fuel and improves machine performance. The system also makes it easier to change the tracks. With the flip of a switch, the hydraulic-oil flow is reversed, causing the tracks to release tension and rise rather than sag. Rabe said two tracks can be changed in about 20 minutes in the field.
The system also provides another benefit, says Tyler Handel, engineering manager, wheel and track loader. "We think it's a huge feature because it eliminates one more checkpoint for the operator. They don't have to focus on whether they have proper track tension."
Ideal Access Door – Another favorite innovation of Manitou's engineering team is the company's patented bifolding access door, says Handel. "We don't even produce that many swingout doors anymore because it's so popular."
The door's design allows for greater head clearance in the cab over one-piece rollup doors found in other loaders. The design also meant the loader could have a shorter, 7-foot ROPS height, so it can be parked in a garage, yet still give operators enough head room.
The loader can be operated with the door opened or closed. Another advantage: the door can be opened or closed without interference from an attachment, no matter the attachment's position, Handel says.
Pilot controls – They are designed to provide smoother control and more feel for the operator. They are connected to the oil pump using oil flow instead of electronic control. "We call it 'drive-by-oil' instead of 'drive-by-wire,'" Rabe said. The controls are also attached to the seat and move with the seat, and armrests can be adjusted.
Running attachments – Other features on the machines include a high-flow auxiliary hydraulic system with pumps connected to the engine for no loss of performance; clear windshield space from the operator's face to the bucket and cutting edge; a 14-pin electrical connection for running attachments; and a hydraulic quick-attach system that allows hooking up and detaching attachments from the cab.
Expecting growth
As with many construction equipment OEMs, Manitou is coming off a banner 2018. This year is shaping up to be a decent one, Alton says, but exceptionally wet weather this spring has temporarily reduced sales, especially in the agriculture sector.
"I don't think anybody in the business would expect '19 to grow at the same way that '18 did," he says. But he adds that may not be all bad, as last year's growth also made it difficult for manufacturers to keep up with demand. Manitou experienced similar supply challenges, but Alton said it made sure to be transparent with customers and strengthen relationships with its suppliers.
"You want a backlog that's healthy enough that your customers can depend on it and it's repeatable, and it's not at a point where the distribution and end customers are missing opportunities," he said. "We're in a good spot and where we should be."
He believes the Manitou Group's Compact Equipment Products division is positioned for more growth, and he expects it to increase Manitou's brand presence and distribution in North America.
"North America is a big opportunity for the Group," he says. "It's a winning opportunity for us here within the CEP division."
"We're investing in quality, innovation, more robust processes, capacity and understanding the real voice of our customer," he adds.
"We want to punch above our weight."