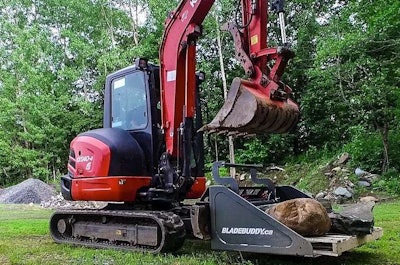 Calling it a "skid steer bucket on steroids," Canadian company Blade Buddy has unveiled a new attachment for excavators that gives operators much of the capabilities of both of the aforementioned machines in one.
The Blade Buddy is a 40-inch deep bucket that mounts to most 5- to 6.5-foot excavator blades without the use of auxiliary hydraulics. Thanks to what the company calls "a center-mounted cradle system" attaching Blade Buddy is done by lifting the excavator blade into the rear mounts, and then detached by lowering the blade to release.
Twin position pins also allow the bucket to quickly go from carrying material to dumping it.
As you can see in the video below, dumping or spreading material can be done by detaching the bucket from the blade and then picking it up with the excavator bucket. The transition can be done in a few seconds and allows for scooping, dumping, spreading, loading and more.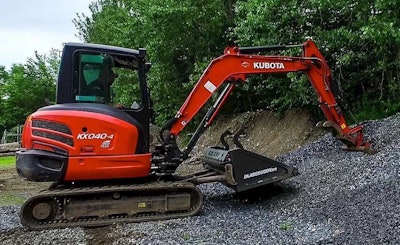 The Blade Buddy can also be outfitted with removable mounted extensions on either side of the bucket. These extensions allow operators to place items longer than the width of the bucket, such as logs and timbers, in a secure place.
As the video below attests, in addition to loading the Blade Buddy by raising and lowering the bucket like you would a skid steer, operators can also load up the bucket using the excavator bucket in both digging and grappling applications.
The Blade Buddy will be available in both the United States and Canada in the fall. A 38-inch wide model for micro excavators will be released in January.
You can learn more about Blade Buddy at the company's website.