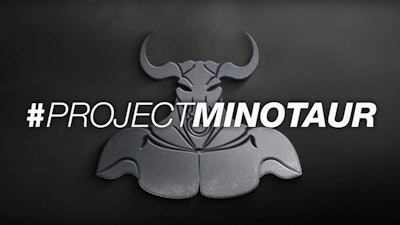 In a cryptic video featuring the enraged growl of a bull, Case Construction Equipment has teased the unveiling of what it is calling a new category of heavy equipment.
The company posted the 30-second video to YouTube on Wednesday under the title "Unleashing #ProjectMinotaur." In the video the company says, "In 1957 we invented a category," as a photo of a vintage 530 backhoe pans across the screen. That photo is then scrambled out with the aforementioned bull growl followed by the words "Today we've done it again." It then invites you to come see the machine at the ConExpo/Con-Agg show in Las Vegas next week.
The video offers no other detail as to what type of machine Project Minotaur might be. So, let's think about it based on what the video gives us.
Just in case your Greek mythology is rusty the minotaur is a fictional beast that is half man, half bull. In most stories it is represented as a beast with the head of a bull atop a human, or human-like, body.
Halfway through the Case teaser video we see close-up footage of a blade pushing dirt. Given that a minotaur is half bull, maybe this new Case machine is some type of bulldozer hybrid? But maybe it's smaller. Perhaps closer in size to a skid steer/compact track loader? If so, it would certainly fall in line with the current trend of crossover machines like Cat's half excavator, half skid steer 304.5E2 XTC and JCB's Teleskid, a half skid steer, half telehandler.
What do you think? Check out the video below and share your predictions in the comments.