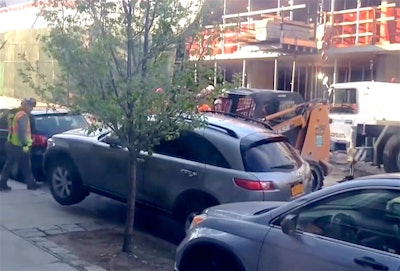 Video of a skid steer operator lifting and moving an SUV parked near a construction site in the Williamsburg neighborhood of Brooklyn has the car's owner fuming and the project's developer pointing the finger at a subcontractor.
According to a report from the New York Post, 20-year-old Henry Nahrwold found his car straddling a curb Friday afternoon. He thought maybe his father, who had purchased the 2004 Infiniti SUV just 9 days earlier on Craigslist, had parked the car that way until he noticed significant damage to the bumper and undercarriage.
Nahrwold told the paper a local repair shop estimated the damages at $2,600—more than a quarter of the $9,000 the family paid for the vehicle.
The SUV was parked in front of the former Domino Sugar Refinery which is being transformed into a luxury building, the Post reports, as part of a $2 billion redevelopment.
Nahrwold's father Thomas asked around about the damage to his son's SUV and eventually found a neighbor who had taken video, seen below, of the SUV being lifted and moved onto the curb by a skid steer. The paper reports other cars could be seen straddling the curb in front of the refinery but it's unclear if they all were moved by the machine.
The developer behind the project, Two Trees Management, pointed the finger at Yonkers-based subcontractor RNC Construction.
"We pride ourselves on being good neighbors and have reprimanded our subcontractor for this unacceptable behavior," Nicole Kolinsky said in a statement to the Post. "We have been assured that the subcontractor will fully pay for any damages."