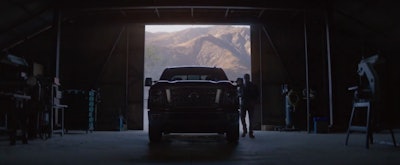 "We have all had a giant….Who showed us how to be. What we could become."
So begins a powerful new commercial for the 2016 Nissan Titan XD which does something very different from most truck commercials: it thanks its competition rather than attacking them.
With the launch of its new pickup, Nissan has a lot of ground to make up. After launching the Titan in 2004, the truck stagnated without a single major design refresh in more than a decade. As a result, its sales numbers sank like a rock. And not the Chevy kind.
But with the launch of the 2016 Titan XD, Nissan has shown not only a serious dedication to getting back into the game with huge towing capability thanks to its 5.0-liter Cummins V8, but an emphatic love for the pickup truck in general. The design of the truck, for better or for worse depending on who is looking at it, takes design cues from both Chevrolet and Ford's latest offerings with an initial focus on a premium trim.
And in the new 90-second commercial, titled "Shoulders of Giants" and debuting during the College Football Playoff National Championship Game Monday night, Nissan took an opportunity to say thank you to its competition for going "before us," adding "We see the way forward."
The ad pairs the sentiment with images of a mother and child, a big and little brother, a football coach and idols like astronauts and airplane pilots. And the voice narration strikes the tone of a Terrence Malick film. Who knows whether this will translate into further sales, but it's a great first step. This is superb ad making.
According to AdAge, the ad was put together by TBWAChiatDay. Nissan North America division vice president and general manager for trucks and light commercial vehicles Fred Diaz told AdAge "…you have to show respect to earn respect of a typical truck buyer. And we wanted to do that in a very true and authentic way without it at all coming across that we are giving a backhanded compliment to our competitors."
AdAge says competitors' trucks shown in the ad were chosen by Nissan for their iconic status in truck culture and are also meant to illustrate how Chevy, Ford and Dodge have innovated and evolved the truck as an art form.
The competing trucks shown include the 1972 Chevy C10, which was known for bridging the gap between a work truck and a daily driving vehicle, Nissan executives said. Also shown is a 1985 Dodge truck that was the first truck with a Cummins diesel engine (the Titan XD uses a Cummins 5.0L V8 Turbo Diesel); and a 1995 Ford F-150 that was co-branded with Eddie Bauer and a had a luxury interior, Nissan executives said.