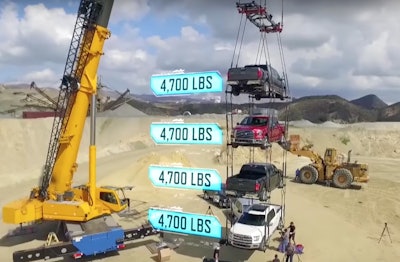 In a spectacular marketing stunt designed to simultaneously show off the strength of the new steel frame on the 2017 Super Duty trucks while reminding everyone of how sweet the new F-150s are, Ford strung up a bunch of trucks from a crane.
Ford says the steel frame on the new Super Duty trucks is 24 times stronger than the 2016 model. and to prove it they rigged up eight F-150s and their awesome F-750 Tonka dump truck to one of the frames and hoisted it all up with a crane.
They brought on John Brenkus, the guy from ESPN's "Sport Science" segments, to host the video, and while it's all a bit over-promotional, the resulting stunt is still pretty cool.
In the end, the frame supports more than 60,000 pounds of weight without bending.
And while all of this is very cool, we do have to point out that none of the crew in this video appear to be wearing proper safety gear. Not a single hard hat or vest to be found. Not smart, Ford!