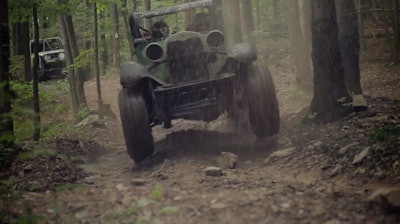 Folks who see Tim Lenig's Model A slinging dirt for the first time have to be a bit perplexed. "How is a car from 1929 still running, let alone sprinting around through the mud and terrain like that?"
Maybe (hopefully) they're not that naive, but you have to admit seeing a Model A perform off-road like this is still a pretty cool sight. The truth is, Lenig's monster is a bit of a Frankenstein. The body—well, the hood, grille and headlights anyway—is authentic Model A. But that's about it.
Underneath the Model A Exterior is a 1973 Ford Bronco chassis with Yukon Gear axles, powered by a 347-cubic-inch stroked V-8 paired with a C4 transmission. Softening the ride are Fox Shocks.
In the video below, Motor Trend's Dirt Every Day episode 12 visits with Lenig and then takes a ride in this beast.
[youtube OJltrzYif6Q nolink]