John Deere's prototype battery-electric 244 X-Tier compact wheel loader is designed for customers looking to benefit from an E-Power machine in a variety of material handling applications, the company says.
"It has all the great features of our diesel version of the 244, just with the added benefits of a fully electric system," said Greg Bauer, John Deere electrification ecosystem product manager.
Bauer said Deere intends to deliver the same or better performance as the conventional 244 P-tier machine with less maintenance, lower noise, and zero tailpipe emissions. "We are working closely with our customers to define requirements and capabilities of the 244 X-Tier."
The 244 X-Tier loader charges like an automotive EV. It has both Level 2 and Level 3 charging ports on it.
"We're still working through what that right amount of energy is to have on board to ensure that customers can get through a full day's worth of work without charging," Bauer said, noting that it's being actively tested.
The 244 X-Tier, first unveiled at ConExpo 2023, has an electric drive providing power to the wheels and then maintains the standard hydraulic flow to drive the bucket and other systems.
"Part of the benefits of the E-Power machines is the quietness," Bauer said. "You gain the efficiency of having the ability to really communicate with the crew on the ground, as well as a better environment for the operator to work in."
There's also less vibration in the cab, and the electric drive delivers instant torque. "There's some great upside there," Bauer said. "We want to make sure that it's an added benefit as we transition to these electric drive machines."
As to pricing, he said, John Deere is still trying to determine the proper range. Much of the increased price of electric machines is based on the battery capacity.
"We want to make sure that we have the energy on board to meet that full day for the production time, but also have a machine that meets a customer's price point," Bauer said. "There is still a lot of work to do there to ensure we meet both of those needs."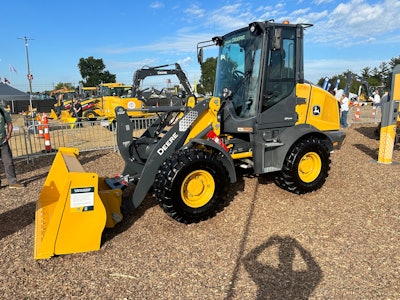 "We're really trying to keep that user experience the same as the diesel as we ease through this transition," Bauer said.
John Deere's electrification journey began in 2013 with the introduction of the 644K Hybrid wheel loader. That loader and the 944K Hybrid have each been rebranded to the 644 X-Tier E-Drive and 944 X-Tier E-Drive to align with the company's performance tiering strategy. Under its new naming strategy that debuted in 2021, X-Tier represents the company's most advanced technology.
Deere is developing E-Power machines with battery solutions from Kreisel Electric.
Along with the 244-X-Tier, the company also unveiled the 310 X-Tier E-Power electric backhoe and the 145 X-Tier E-Power excavator concept.
Bauer noted that John Deere has committed to releasing 20-plus electric and hybrid models by 2026, and the 244 X-Tier compact loader is on that list.
"I think it's with any new product, you have your early adopters that are on the cusp and want to get their hands on this new design, new technology as soon as possible," he said. "You have some others that are a little bit hesitant and trying to understand how this may fit into their fleets and what that means from a fleet management perspective daily."
In general, Bauer said, excitement is building among customers about the possibilities of electric equipment.
"We're also seeing a lot of areas throughout the country that are requiring zero emission machines anytime that it's available, so that's driving a lot of the demand as well," Bauer said. "We just want to make sure that John Deere is prepared to meet those customer needs."
Quick Specs
Net power: 52 kW (71 net hp equivalent)
Charging: Level 2 AC (on board) and Level 3 DC
Bucket capacity: 1.0-1.4 cubic yards
Top speed: 23 mph
Linkage: Z-Bar