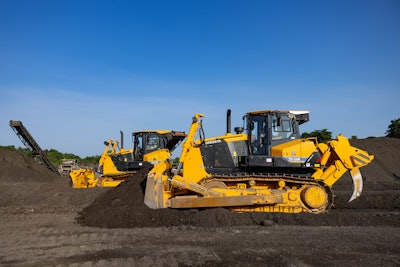 Dressta
Dressta has rolled out a pair of new dozers in North America in the mid- and heavy-size ranges. According to the company, the new TD-15M and TD-25M dozers were built around the operator to reduce fatigue, lower operating costs and increase uptime.
The mid-size TD-15M is intended for customers working on roads, landscaping, forestry and landfills. The larger TD-25M is intended for heavy applications such as mining and quarries.
"We're excited to bring these new TD-15M and TD-25M crawler dozers to North America," said Chris Saucedo, SVP,of strategy & customer solutions of Dressta parent company LiuGong North America. "The power, rugged toughness and ease of use for operators are key selling points for these two machines."
The TD-15M fits the mid-size dozer market, ranging from 45,660 up to 47,780 pounds, and is powered by a turbocharged Cummins engine with up to 232 horsepower. Its big brother, the TD-25M, packs even more into its frame ranging from 90,940 to 92,410 pounds and offers up 375 horsepower from its turbocharged Cummins engine to handle heavier applications. According to Dressta, those engines deliver higher peak torque and strong fuel efficiency.
The TD-15M was designed with a 472 kN drawbar pull, while the TD-25M includes a 794 kN drawbar pull, delivered for both through a three-speed power shift transmission and two-speed steering drive. The unique drive delivers 100% of the engine's power to both tracks, allowing operators to push a full load through turns without losing material.
Additionally, new electro-hydraulic proportional joysticks provide predictable and precise blade control, helping operators to accurately control the dozers with minimum effort, the company says. There are three intelligent blade speeds of slow, neutral and fast, which adjust to the application for increased accuracy and precision. Dressta's load sensing system automatically adjusts the speed of the blade's working movements to the load, resulting in fewer unnecessary passes and higher fuel economy, the company says.
Each model is built on Dressta's one-piece weldment mainframe and heavy-duty steel track frame system. These modular undercarriage components are manufactured for extended wear and easy removal and replacement.
With the modulator design, all major components can be replaced in the field in just a few hours, the company says. In addition, all service and maintenance points are marked and easily accessible, with diagnostic points conveniently grouped. The onboard system provides the operator with a range of status data including the incoming daily services.
The TD-25M is grade-control ready with a choice of Trimble systems for road and highway applications fitted at factory.
Both dozers' cabs offer 33% more glass surface area, a tapered engine hood with clear sight lines to the blade corners, a rearview camera (optional on TD-15M, standard on TD-25M) and additional ripper lighting.
Also, both models have left and right ergonomic joysticks, a 7-inch full color monitor and high-efficiency air-suspended high-back seating. In addition, Dressta added Bluetooth connectivity. An improved climate control system features nine air outlets.
The dozers can be spec'd with wide or long tracks, rippers with single or multiple shanks, landfill configuration and rigid or angle blades.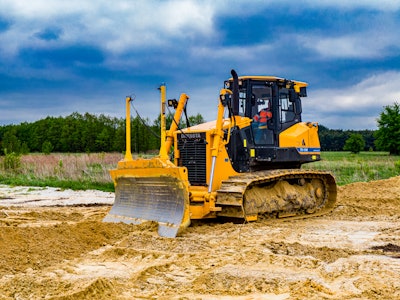 Quick Specs TD-15M
Drawbar Pull: 472 kN
Engine Power: 205-232 hp
Weight Range: 45,660-47,780 lb.
Max Torque: 700 lb.-foot at 1500 rpm
Track Gauge: 76-85 in
Track Shoe Width: 20-37 in
Shoes, Each Side: 39-43
Track Rollers, Each Side: 6-8
Overall Height – Cab: 11 ft 4 in
Overall Height – Beacon: 12 ft 11 in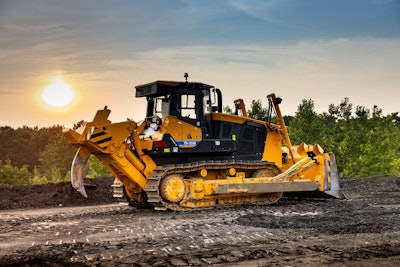 Quick Specs TD-25M
Drawbar Pull: 794 kN
Engine Power: 375 hp
Weight Range: 90,940-92,410 lb.
Max Torque: 1600 lb.-foot at 1,200 rpm
Track Gauge: 84 in
Track Shoe Width: 22 in
Shoes, Each Side: 39
Track Rollers, Each Side: 7
Overall Height – FOPS Cab: 12 ft 3 in
Overall Height – Beacon: 12 ft 10 in