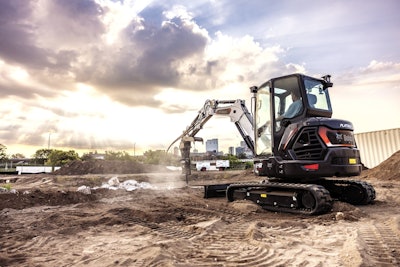 Bobcat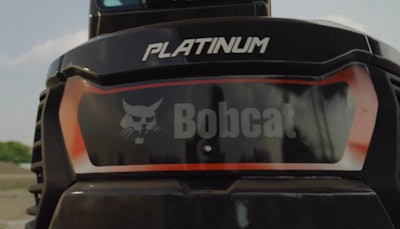 Decked out with "every optional Bobcat feature available," Bobcat has added the E48 compact excavator to its Platinum lineup of compact equipment. The company has also made design updates to its 2022 Platinum model T76 compact track loaders.
Bobcat says these limited-edition models are available at select Bobcat dealerships and provide a VIP experience with sleek, modern details and features paired with state-of-the-art technology and amenities.
The fully optioned E48 Platinum compact excavator features a standard long arm for extended reach, LED light kit, engine block heater, angle blade, clamp diverter valve, and Hydraulic X-Change attachment system, among others.
But what Bobcat says operators will really notice is the "premium cab experience." The Platinum E48's enclosed cab includes automatic heating and air conditioning, a heated high-back seat, rearview camera and a 7-inch touch display with Bluetooth and radio capability.
Bobcat recently announced that the E48 is the new name for the E42. The name is meant to more closely align the 4.5-metric-ton excavator, along with two other models, with industry size classes, the company says.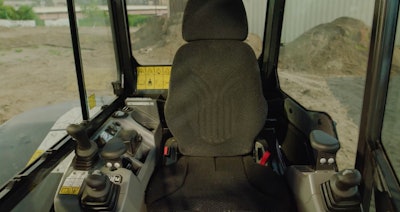 T76 Platinum
New from the 2022 model, the T76 Platinum compact track loader gets interior decals, a platinum boot screen, a charcoal tailgate guard, and a numbered plate inside the cab, showcasing the exclusivity of each machine in the 2023 platinum package release. Additional features include a clear-side enclosure, high-flow hydraulics, two-speed travel, dual-direction bucket positioning, MaxControl remote operation, and the Bob-Dock attachment mounting system with two adapter plates included, among other upgrades.
All Platinum machines feature a five-year Machine IQ Health and Security subscription, a 7-inch touch display with Bluetooth connectivity, a rearview camera and limited-edition Platinum styling.
Attendees at the Equip Exposition got the first look at the new limited-edition models. The E48 Platinum and T76 Platinum will be available to customers in North America in late 2023 or early 2024. Other Platinum package models include the E35 compact excavator and S76 skid steer loader.