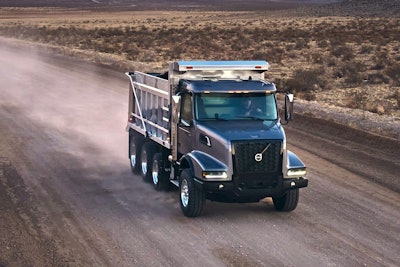 Volvo Trucks
Volvo Group says the global shortage of semiconductors will have a "substantial impact" on its production of trucks in the second quarter. The shortage will also likely affect production in other groups, including construction equipment.
Starting at the beginning of the quarter, Volvo Group says it will implement stop days across its global truck manufacturing operations, for a total of two to four weeks depending on the production site. "In addition, disturbances are also expected to impact the Group's other business areas," says the group.
A spokesperson for Volvo Construction Equipment, however, told Equipment World: "We currently don't see a risk of a production stop for Volvo CE in the coming weeks, however we are continuing to evaluate any future impact on production as a result of this issue."
Volvo Group says "visibility into the global supply chain of semiconductors as well as other components is currently very low and the uncertainty about the development is high."
"We expect Lehigh Valley Operations to be affected in Q2," Kim Pupillo, Mack Trucks' director of public relations, says of the site where Mack's heavy duty tractors are assembled. "At the moment, we believe this will mean some non-production days during the quarter. The situation is fluid. We're doing everything we can to minimize the impact, and we are maintaining the flexibility to increase production if the situation allows."
The Volvo Trucks plant in Dublin, Virginia, is also affected by the supply-chain constraints facing the global industry, "including semiconductor shortages, as the truck demand is exceeding the supply," notes Mary Beth Halprin, Volvo Group North America vice president of public relations and corporate affairs. "We are monitoring the situation closely as these constraints will continue in the second quarter, and we will adjust our production if needed. We're working closely with our suppliers to minimize the impact on our customers."
According to the Harvard Business Review, semiconductor lead times are one year out right now, a situation that is hitting the automotive industry hard. "And it's not just carmakers that are in trouble," says the Review. "The chip shortages are expected to cause widespread shortages of everything, from electronics to medical devices to technology and networking equipment."
The shortage is part of a pandemic-related automaker production drop last spring that was followed by a rebound, says the Review. When automakers were ready to roll once again, semiconductor makers had already committed their supply to consumer electronics and IT customers. Contributing factors also include transportation backlogs and two semiconductor-related manufacturing plant fires in Japan.
Volvo Group says these production disruptions are expected to have "a negative impact on earnings and cash flow."
Last year, Volvo Trucks introduced its upgraded VHD Vocational Series truck, saying it was its most significant vocational offering in decades. Upgrades included modern aesthetics, improved capability and safety and uptime solutions.