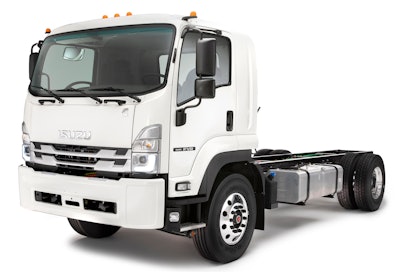 Isuzu will offer the Cummins B6.7 diesel engine in its F-Series trucks in the U.S. and Canada effective with the 2022 model year, the company announced Friday, and among the models ushering in the new engine offering will be a new Class 7 truck.
Availability of the B6.7 – the most popular diesel engine ever built by Cummins – marks the first time Isuzu has ever offered any engine other than its own in any of its models, and it will be matched to an automatic six-speed Allison 2500 RDS transmission.
At 260-hp and 660 lb.-ft of torque, Isuzu's Cummins is the highest horsepower and torque available from the B6.7, and the power increase for the Isuzu F-Series is intended to more easily move heavier payloads through urban environments and over-the-road between distribution centers.
The B6.7 will be the only engine available in each truck and replaces Isuzu's 5.2 liter in the Class 6 FTR. Isuzu Commercial Truck of America and Canada President Shaun Skinner noted attempting to expand into Class 7 with the company's four cylinder engine – and its 215-hp and 452 lb.-ft. of torque – "would really have been close to impossible."
Skinner said the company believes the Cummins B6.7 will appeal more broadly to fleets that needed more power, adding the low cab forward's larger cab-to-axle space provides the Isuzu F-Series more cargo capacity versus conventional cabs with a comparable wheelbase, unlocking more versatility for body applications.
The beefed up B6.7 is the first product to come to market globally from the Isuzu Cummins Powertrain Partnership (ICPP) that the two companies formed in 2019.
"It gives Class 6 and 7 truck buyers in the U.S. and Canadian markets new ways to experience the B6.7, with configurations that don't exist today," added Executive Director of Cummins On-Highway OEM Business Rob Neitzke.
The 2022 F-Series will be available in two models – the Class 6 FTR (25,950 lb. GVWR) and the Class 7 FVR (33,000 lb. GVWR), and will include a de-rated Class 6 FVR. A total of eight wheelbases will be available for the FTR and FVR models.
Both the FTR and FVR will feature a 50-degree inner wheel cut that gives the Isuzu F-Series class-leading turning diameters between 43.7 feet (152" wheelbase) and 65 feet (248" wheelbase). A new interior design features dual-tone trim and seating that adds passenger comfort. An air suspension will be optional, and both models feature a new grille and new LED headlamp design.
Production of both models is set to kick off late this year.