These 11 attachments can expand the capabilities of your skid steer or compact track loader. Perform such tasks as clearing heavy brush, snow and ice; milling asphalt and concrete; and keeping your jobsite clear of debris. You can even convert a compact track loader into a dozer.

Tame Dense Brush


Construction Attachments
' hydraulic
rotary brush cutters
are designed to cut through overgrown brush, trees and dense terrain. They come with a Safety Chain, which limits the height the cutter can be raised while attached to the host machine. Cutting widths of 60 or 72 inches are available. Cutting capacity is 7 inches in diameter. The cutters are available with or without bolt-on mulching teeth. Standard-flow models run on 16 to 30 gallons per minute of hydraulic oil flow, and high-flow models run on 24 to 45 gpm.
One Smart Dozer Blade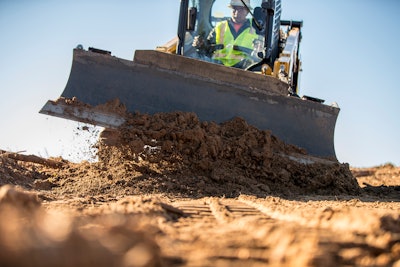 Cat
's
Smart Dozer Blade
can be controlled from the cab through a special display screen that is automatically unlocked by the host machine. The attachment is designed for these D3 Series compact track loader models: 279D3, 289D3, 299D3 and 299D3 XE. When in attachment-control mode, the operator can control travel with the left joystick, and blade functions with the right joystick. The blade can cut, move and grade. A curved moldboard keeps material rolling. When fully tilted, the blade can cut flush with vertical surfaces.
Compact Cold Planers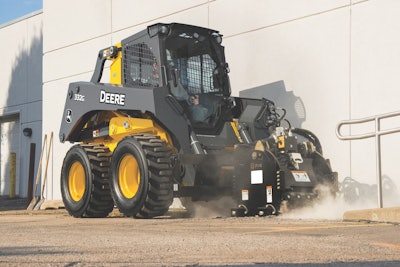 John Deere has introduced three new cold planer attachments for skid steers and compact track loaders for such tasks as street repairs, leveling uneven pavement, texturing pavement and cleaning around larger milling sites. The functions of the high-flow CP18E, CP24E and CP30E cold planer models can be controlled from the cab, including depth, tilt and side shift. A heavy-duty planetary drive system delivers high torque. Rear spoil clearance of 9 inches reduces recirculation of material. A wheel guard prevents the wheels from riding up and over the millings.

Trenching While Standing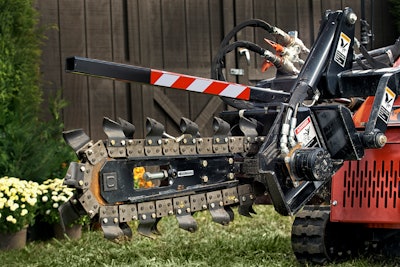 The SK5TR trencher attachment for Ditch Witch's stand-on compact utility loaders, also known as mini-skid steers, has been upgraded from a 10- to an 11-tooth forged sprocket to increase chain speed and life. Ditch Witch also included a replaceable boom stub for quicker, lower-cost repair. The SK5TR has a max digging depth of 38 inches and max trenching width of 6 inches. It is designed to be easy to transport and for work on tight jobsites. The attachment also features an updated, more compact design for improved visibility.
Close Sweeping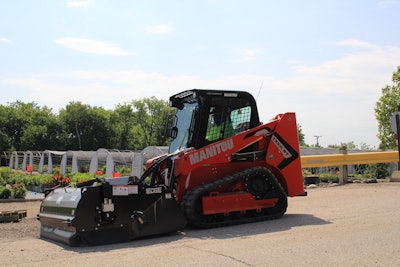 The Edge Hopper Broom is designed for cleaning up debris after milling, road maintenance or on general jobsites. It can sweep in both forward and reverse and is available in widths of 60, 72 and 84 inches. The attachment's cutting edge can be reversed when one side wears out. It does not have a caster wheel, which enables it to get closer to the road when cleaning. Bristles can be adjusted downward with a single pin on each side as they wear. Options include a dust-control kit and a 12-inch gutter brush for cleaning curbs and other hard-to-reach areas.

Quick Attach Snowplow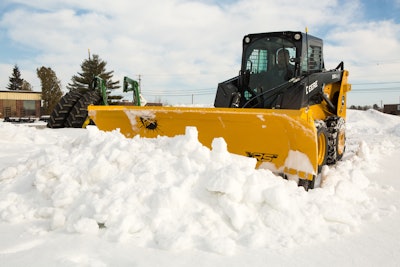 Fisher's XRS snowplow can be operated from the cab as it uses the skid steer or compact track loader's hydraulic system to lift and lower the blade. The plow automatically retracts the inside wing when fully angled and then automatically returns to the scoop position once straight. It is designed for quick and easy attachment. An oscillating skid-steer mount comes standard and provides 6 degrees of side-to-side oscillation to improve scraping and cutting-edge wear while reducing damage to the terrain.
Dual Function

The ST Series from Loegering Power Attachments, an ASV brand, encompasses both stabilizing and milling functions with its drum design. It can mill down to 9 inches and follow the contour of the pavement with independent level control on both sides. It also features a large mixing chamber and dust-suppression system. Ports for spraying stabilizing fluid or binder are built into the cutter box. The series consists of the 39-inch-wide ST1000 for use on parking lots and other larger projects, and the 24-inch ST600 for narrow roads, small parking lots and paved paths.
One Bad Ax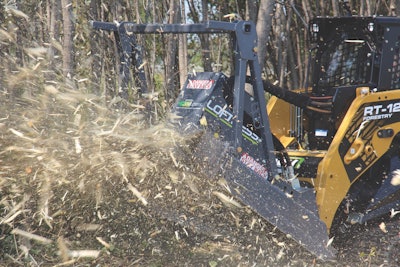 Loftness developed its Bad Ax disc mulcher for such tasks as vegetation control and clearing land. It can cut trees up to 14 inches in diameter with its 60-inch diameter disc. The disc is powered by its own hydraulic motor and has no welds, which prevents stress cracking. It is a direct-drive system that requires no belts. A polyurethane coupler dampens vibrations. Recutter bars along with counter teeth hold material in place to be mulched and prevent chamber jams. The steel Quadco blades can be sharpened and rotated on site.

Heavy Duty Mulching


The Premier Attachments Ammbusher AC20C heavy-duty mulching brush cutter can cut trees up to 7 inches in diameter and has a cutting width of 72 inches. The high-flow attachment can also mulch, shred and grind. It features four ¾-inch blades for chopping grass and trees and carbide stump-grinding teeth at the bottom of the blade carrier for breaking up material and grinding stumps to grade. Interrupters on the top of the blade carrier prevent vines and wire from wrapping around the drive shaft. A pressure gauge allows operators to monitor the cutter's load.

Better Scraping, Less Wear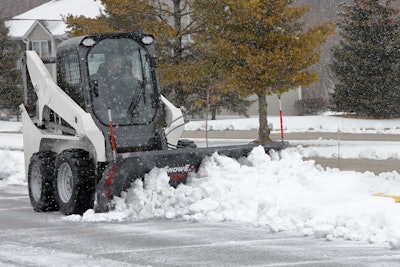 The Oscillating Skid-Steer Mount is designed for SnowEx snowplows to enable them to achieve better scraping performance and less wear on the cutting edge. It can mount to any brand or style of skid steer. The mount enables the plow to oscillate 6 degrees left to right so it can follow the pavement contours for a cleaner scrape. It is compatible with SnowEx HD straight blades ranging in widths of 7.5 to 9 feet and the Speedwing, which has automatically adjusting mechanical wings.

Ground Shark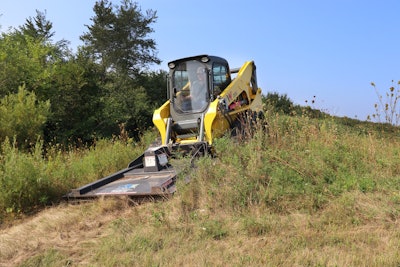 Ground Shark brush cutters, available for Wacker Neuson skid steers and compact track loaders, come in standard and Extreme Duty models for site prep, fence line maintenance, roadside maintenance, right of way clearing and trail maintenance. The standard model is designed for general vegetation management and can handle light and medium-density brush and hardwoods up to 4 inches in diameter. The Extreme Duty model cuts through medium- to high-density brush and hardwoods up to 7 inches in diameter. A variety of cutting widths are available.

Snow Pushing, Scraping, Stacking


Western has added 12-, 14- and 16-foot-wide pusher plows to its Pile Driver lineup for pushing, scraping and stacking snow. The plows feature a steel trip edge with eight to 12 extension springs, depending on the blade width, and additional reinforced ribs at the trip springs for large snow loads. The trip edge is designed to provide a cleaner scrape in hard-packed snow and ice while also protecting operators and host equipment from hidden obstacles. The plows attach with interchangeable mounting plates that are available in multiple sizes.

8-Foot Grading Blade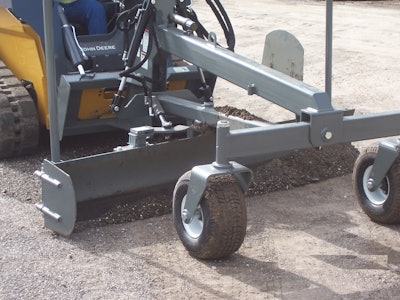 Worksaver's SSGB-8B Grader Blade is designed for asphalt, landscaping and concrete flatwork contractors. The 8-foot blade's six-way hydraulically controlled moldboard is operated in-cab by remote control. The moldboard is shear-pin protected to prevent damage. An optional laser interface junction box allows use of a Leica Geosystems laser system. Standard equipment includes a reversible and beveled cutting edge, half-inch "connect under pressure" flat-faced hydraulic couplers and a proportional valve.