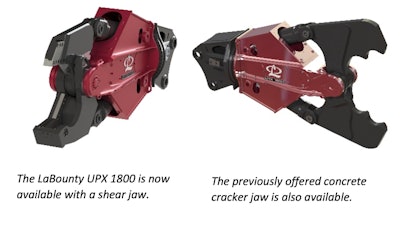 LaBounty has added a new shear jaw for its UPX 1800 demolition attachment for excavators.
The 32,000-pound UPX 1800 already has a concrete cracker jaw. The company currently has multiple jaws for its smaller lineup of UPX, which stands for Universal Processor. Now it is starting to do the same for the larger model.
LaBounty says the UPX is designed for large infrastructure projects and has "the industry's best power-to-weight ratio."
LaBounty is a subsidiary of Stanley Infrastructure.