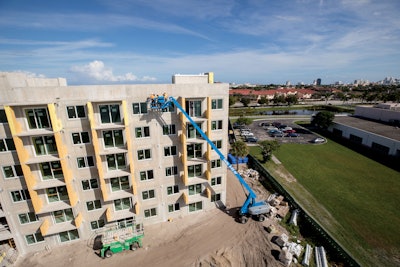 Terex says its 4Q 2019 net sales of $885.0 million were down 15.6 percent versus the 4Q 2018. For the full year, net sales were $4,353.1 million, compared to $4,517.2 million in 2018, a decrease of 3.6 percent.
"Our fourth quarter operating results were generally in-line with our expectations on lower revenue and reflect continued challenging global market conditions for industrial equipment," says John L. Garrison, Jr., Terex chairman and CEO.
Looking specifically at the Terex Aerial Work Platforms (AWP) business segment, the unit reported net sales of $500.1 million, down 20.8 percent versus 4Q 2018, which the company says was driven by challenging markets in North America and Europe. Global Terex AWP backlog totaled $753 million and bookings in the quarter were $755 million.
"The fourth quarter completed a year where we faced considerable market uncertainty after two years of robust demand," says Matt Fearon, president, Terex AWP. "We are positioned well for 2020 and excited about our innovative new products, as well as our long-term growth prospects. Particularly, we are expanding our Changzhou, China, facility in 2020 to accommodate the market growth in China for aerial products."
Regarding the company's Terex Utilities division results, Fearon says, "The Terex Utilities team continues to execute well and will transition to their new state-of-the-art manufacturing and engineering facility this summer. This new facility will improve efficiency and increase capacity, which together with new products and service will enable Terex Utilities to continue to grow."
"We expect customers to remain cautious with their capital expenditure decisions in 2020," Garrison says, and the company anticipates net sales of around $3.9 billion for the year.