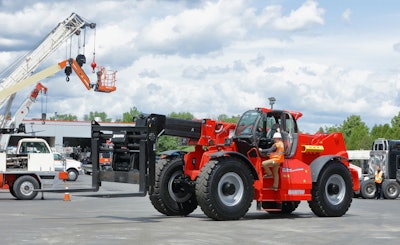 Manitou has unveiled its largest telehandler – one of the largest on the market – with its new MHT 12330, which has a lift capacity of 72,750 pounds.
That puts the telehandler at third-highest capacity in Equipment Word's recently released 2019-2020 Spec Guide.
Manitou designed the telehandler for moving industrial equipment in areas where cranes can't go. That includes infrastructure projects, mining, bridge construction, steel mills, oil refineries, quarries, power distribution and heavy hauling, the company says.
Along with high lifting capacity – it can also hoist 80,000 pounds with a lift hook – the MHT 12330 is designed to tackle tough jobs and be easy to maneuver, the company says. Max lift height is 39 feet 1 inch, and max reach is 21 feet 8 inches.
It runs on a 245-horsepower Deutz engine that is Tier 4 Final and also meet Europe's newer Stage V emissions requirements due to its diesel particulate filter. It features four-wheel drive, a three-speed hydrostatic transmission and three steering modes: wheel, crab or front wheel.
The MHT 12330 can handle a variety of attachments, including forks of 6 to 12 feet long, work platforms, tire handlers and cylinder handlers. Manitou's E-RECO system automatically detects when an attachment is correctly mounted and assigns the appropriate load chart, the company says.
Manitou gives the operator panoramic views from the cab and four camera views, of front, rear and sides. Its JSM (Joystick, Switch and Move) control puts all boom, hydraulic and drive direction functions into a single joystick. The operator can set restrictive zones for boom height, outreach and hydraulic speed. Manitou's Connected Machines telematics comes standard.