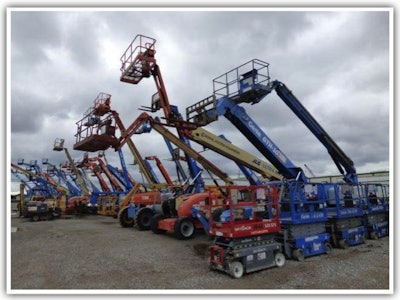 Aerial Access Equipment rental company, with locations in Louisiana and Texas, is closing and auctioning off its equipment to pay off its creditors, according to Tiger Group, which is handling the sales.
The final auction of equipment will be November 19 and 20 and will cover the remaining rental equipment left at the company's locations in the Gulf Coast region from New Orleans to Houston.
Tiger says the auctions aim to sell more than 700 pieces of equipment from such manufacturers as JLG, Genie, SkyTrak, Skyjack and Snorkel.
Auctions
Here's a breakdown of the two sales:
Day One, Nov. 19
200-plus articulated and telescopic boom lifts
70-plus telehandlers
20-plus rough-terrain forklifts
Cranes, excavators, skid steers and other equipment
Day Two, Nov. 20
280 scissor lifts, mast lifts and aerial work platforms from JLG and Genie
50-plus utility vehicles from Kawasaki, John Deere and Polaris
Air tools, welders, air compressors, light towers, forklifts, attachments and pumps
Ford service trucks and Ledwell delivery trailers, as well as a variety of general-use tools and shop and office items
How to bid
Interested bidders can inspect the equipment at soldtiger.com and/or see it in person at one of AAE's seven different yards in Louisiana and Texas.
Online bidding for the Day 1 webcast auction opens November 12 at SoldTiger.com and closes in rapid succession, live auction style, on Nov. 19 at 10 a.m. (CT).
Bidding for the Day 2 auction begins November 13 on the Tiger website and will close in rapid succession on November 20 at 10 a.m. (CT).
All bidders are required to register at the Tiger website prior to the sales.
All assets to be auctioned will be available for inspection November 18 from 10 a.m. to 4 p.m. (CT) or by appointment at these seven locations:
In Louisiana – 8921 Buzbee Lane and 13764 Airline Hwy. in Baton Rouge; 214 Walcot Rd. in Westlake; 1229 Peters Rd. in Harvey; and 3279 Elliswood Dr. in Sulphur.
In Texas – 1790 Industrial Park in Nederland, and 3401 Awesome Lane in La Porte.
AAE closing
The auctions of AAE equipment began September 19. The company owned more than 1,500 pieces of construction machinery.
AAE was founded in 1998 by Gene Torrence, a former division manager for H&E Equipment. The company is based in Baton Rouge and was acquired in 2004 by private equity firm Source Capital, but the firm has since "exited" its investment, according to its website. AAE's main customers were chemical refineries, fabricators, nonresidential construction contractors and contractors for offshore oil and gas drilling platforms.
Along with Louisiana and Texas, AAE also had locations in Alabama and Mississippi.