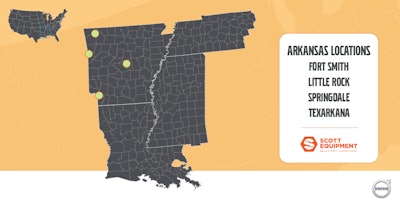 Volvo Construction Equipment has named Scott Equipment, headquartered in Monroe, Louisiana, as its dealer in Arkansas, replacing Little Rock, Arkansas-based Hugg & Hall Equipment.
To ensure a smooth transition, Scott Equipment will take on Hugg & Hall employees servicing Volvo CE products and services at its four Arkansas locations in Fort Smith, Springdale, Texarkana and Little Rock.
"Scott Equipment is a seasoned partner, already well known in Arkansas, and we are pleased to extend their commitment to machine availability and customer service to this region," says Stephen Roy, Volvo CE's president of sales for the Americas. "Customers can expect the same caliber of excellent support that Hugg & Hall has given over the decades."
Scott Equipment, which has been a Volvo CE dealer since 2000, will offer the company's full product line, including road machinery and the SDLG brand. The company will take over all Volvo CE business from Hugg & Hall and transfer to the company and transfer to the company its Toyota material handling equipment line for the state of Arkansas.
Scott Equipment also represents Volvo CE in Louisiana, Mississippi and Tennessee. In total, the company has 17 locations, including branches in Texas. Established in 1939 as Scott Truck and Tractor, the firm now has nearly 400 employees, according to its website.
"Scott Equipment has been operating in the state of Arkansas since 1990, representing various equipment manufacturers," says Scott Cummins, CEO, Scott Equipment. "The Scott family is thrilled about the opportunity to expand our Arkansas operations and offer Volvo CE's full line of products and services to the Arkansas territory."
"We see this agreement to trade product lines as mutually beneficial to both equipment providers," says John Hugg, president, Hugg & Hall. "We have appreciated the opportunity to represent Volvo CE products in our territory for over 30 years, and consider Scott Equipment a respected peer. We will work together to make a seamless transition for both our customers and employees."