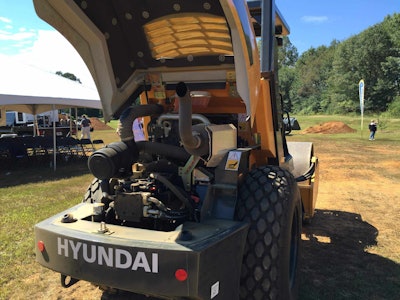 Hyundai Construction Equipment has agreed to pay $47 million in civil fines for allegedly violating U.S. emissions standards on heavy construction equipment.
The company prepurchased engines between 2012 and 2015 "that met outdated emissions standards and then illegally imported, marketed and sold heavy construction equipment with these engines installed, in violation of the Clean Air Act," according to a news release from the U.S. Justice Department.
A release from the U.S. Environmental Protection Agency, which worked with the Justice Department on the case, said Hyundai also exceeded its allowable limit of diesel engines meeting older standards under the Transition Program for Equipment Manufacturers. The program gave a temporary delay of implementing Tier 4 Final diesel standards. The EPA says the company "allegedly introduced into United States commerce at least 2,269 illegal diesel nonroad vehicles."
The $47 million settlement follows a criminal fine of $1.95 million issued in November 2018 in federal court on charges of conspiring to defraud the federal government and violating the Clean Air Act. The violation was discovered by a whistleblower complaint in 2015 to the EPA. That resulted in both criminal and civil investigations, which are now resolved.
The EPA says the illegal equipment did not meet emissions standards governing nitrogen oxides and particulate matter. "EPA is holding Hyundai accountable for importing and selling diesel engines and heavy-duty construction vehicles that did not meet Clean Air Act emission standards," said Susan P. Bodine, EPA assistant administrator for the Office of Enforcement and Compliance Assurance. "By ignoring regulatory requirements, Hyundai not only gained a market advantage over their competitors, but they also introduced higher-polluting vehicles into the United States, undermining the protection of human health and the environment."
In the consent decree filed September 19 and naming Hyundai Construction Equipment Americas and Hyundai Heavy Industries, Hyundai does "not admit any liability to the United States." The decree notes that in October 2017, Hyundai implemented an environmental compliance plan that was updated in September 2018 "with the intention to ensure their future compliance with environmental regulations governing nonroad equipment manufacturers and importers in the United States."
The consent decree, issued by U.S. District Judge Dabney L. Friedrich, says it resolves all civil claims with Hyundai and the federal government.