Directional drilling garners less attention than it did a decade or two ago. But it hasn't gone away. If anything, it's expanding.
There were 42 models listed in the 2009 Equipment World Spec Guide; there are 56 models this year. Here's an overview.
A triple-purpose machine
Barbco has expanded its catalog to include more than two dozen auger boring and directional drilling models. This broad range means Barbco can match a machine to a customer's needs…most of the time. The challenge comes when a customer has diverse requirements, and a single type of machine won't do them all.
Enter Tribor, which Barbco describes as a hybrid of three types of machinery: an auger boring machine, a guided boring machine and a horizontal directional drill. Providing three modes of operation "cuts costs for operators who participate in multiple fields," says Jack Barbera, Barbco marketing associate. The Tribor lineup includes three models, the Tribor30, Tribor36 and Tribor 48.
As an auger boring machine, Tribor can install up to 48-inch casing in lengths up to 20 feet in one continuous push. As a guided boring machine, Tribor uses theodolite pilot tube technology for high accuracy. The system is compatible with air hammers for boring through rock. As a directional drill, Tribor features a high-torque, multispeed rotary gearbox and a rear spindle fluid swivel for high-volume mud pumping. Removable dual wrenches break tough joints, and Tribor accommodates downhole steering systems from a conventional HDD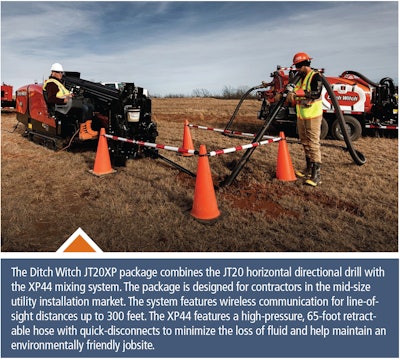 transmitter housing, mud motor, air hammer or camera-assist target housing.
Among the safety features incorporated into the Tribor design is a rollover anticipation circuit, which senses when the machine is lifting off its tracks and shuts down operation to prevent rollover. Tribor also has the option to be operated fully by remote.
Uptime protected
Uptime is a critical factor for directional drillers, says Cory Maker, horizontal directional drilling product manager at Ditch Witch. If a directional drill goes down, production stops.
So Ditch Witch has made a number of changes to ensure maximum uptime. The JT25 and JT/AT40 use an SAI motor rotational drive, a single motor that does away with planetary gears. "The SAI motor removes a possible failure point on an HDD," says Maker. "OEMs buy off-the-shelf planetary systems that aren't necessarily well-suited to the stress and shock loads inherent in the duty cycles of directional drilling." He says the SAI radial piston hydraulic motor better handles such demands.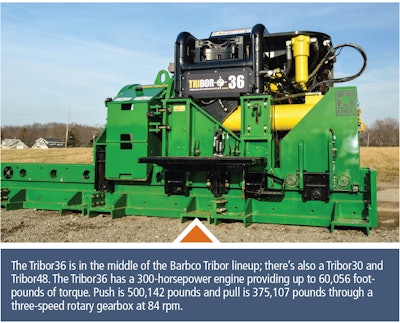 Daily checks are often overlooked, resulting in early and catastrophic failure and downtime. So Ditch Witch eliminated daily checks. Remarkably, the only zerk fittings on its machines are for track tension. Component life cycle remains good through the use of bronze bushings, sealed bearings and other maintenance-free, durable parts.
A slide cartridge supports the carriage if carriage rollers fail. Maker says this allows the machine to finish the day and prevents costly damage to the rack-and-pinion assembly. Ditch Witch engineers and develops its full line of pipes and downhole tools, ensuring compatibility with its machines and further increasing uptime.
Accommodating the operator
Maker says Ditch Witch emphasizes commonality in its controls. While the number of features increases when moving up in the product line, the basics remain the same. An operator comfortable with the joysticks on the JT20 would carry that comfort forward when moving onto larger machines.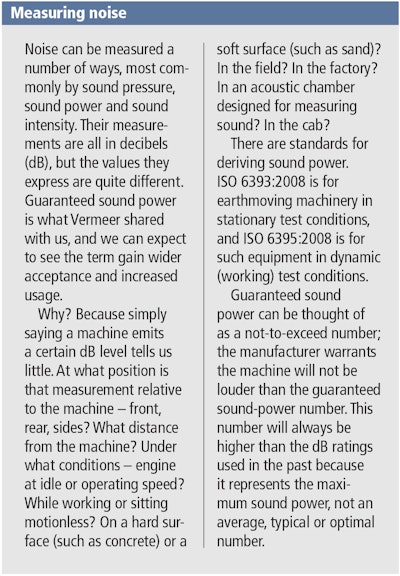 The standard configuration for Ditch Witch is thrust and rotation on the right joystick. But this can be changed to divide those functions to the left and right joystick to meet operator preferences.
This feature is available on models from the JT20 to the JT100. Typically this option is selected as part of the spec'ing process and is part of the factory build, but it can be accomplished by the dealer as a retrofit.
A real-time position indicator driven by encoders shows the location of the carriage throughout its travel. Older machines showed carriage position only in the fully forward and fully retracted positions.
The JT40 has additional operator-friendly features. Patent-pending open-sided vise wrenches are rotated toward the operator to improve visibility. A unique add-a-pipe design allows the operator to manually insert sticks of drill pipe when pipe runs out.
XP44 fluid system
The Ditch Witch XP44 is a self-contained fluid management system. It comes standard on the JT20XP. The standard JT20 is well-suited for fiber installation and urban applications given its size and feature set. Adding the XP44, which has its own 44-horsepower drive, allows maximum productivity from the drill unit by leaving the full 74.5 horsepower of the drill's engine available for rotation, thrust and pullback. Combining the XP44 and JT20 yields an effective gross of 118 horsepower.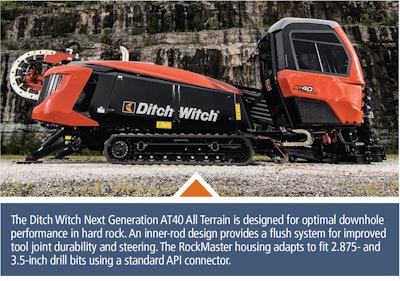 Because the full power of the Deutz diesel engine is available for drilling, Ditch Witch was able to increase performance specs from the JT20 to the JT20XP. Torque goes from 2,200 foot-pounds to 2,500 foot-pounds. Rotational speed moves from 200 to 240 rpm, and fluid flow jumps from 25 to 39 gallons per minute.
The XP44 can be plumbed into the fluid management system of other Ditch Witch models and even competitors' machines. In those instances, the XP44 can provide all fluid management functions or can augment the functions of the stock onboard system for greater overall performance. The XP44 handles both fluid mixing and fluid delivery.
Vermeer and technology
As with all global players, Vermeer has to work hard to keep up with a patchwork of regulations and market demands, says Tod Michael, product manager, trenchless core products. He points to emissions regulations as the classic example. While Europe is moving to Stage V, the United States remains at Tier 4 Final, and lesser-regulated countries march to the beat of an entirely different drummer or no drummer at all.
Another example is noise. Traditionally, the European Union has focused on protecting the community from noise, while in the United States, the emphasis has been on shielding the operator from noise.
Because the directional drilling market in the United States hasn't been especially attentive to noise attenuation, Vermeer decided it was time to make big gains in this area with the design of its Series 3 machines. The effect is noticeable whether using the EU's sound measurement standards or those of the United States. With the DX24x40 S3, for example, guaranteed sound power dropped from 116 to 104 decibels, and noise at the operator's ear dropped from somewhere in the 90-plus range to less than 80 dB. "Customers generally don't ask for reduced noise, but everyone wants it once they're exposed to it," says Michael. (See sidebar "Measuring noise" on page 26.)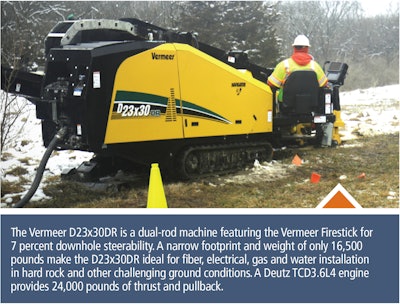 Vermeer has an extensive offering of productivity tools. Of those, Michael says, BoreAssist stands out. Licensed users can load, create and edit bore plans on the DCI DigiTrak Aurora display on site. With the addition of Log-While-Drilling, the operator gets a rod-by-rod schematic of the actual bore in real time, which can be compared to the plan to reduce potential corrections throughout the bore. "Bore plan software used to benefit mainly the back office," says Michael. "BoreAssist integrates back-office planning with on-site operation for improved performance."
Other developments Michael mentioned include locators that are better at managing interference, both passive (such as rebar) and active (electromagnetic interference from radios, lights and other electronic sources). Target steer has increased in popularity over the past several years. Setting up the locator and boring to it at a set depth keeps workers out of harm's way when boring under roads and in other elevated-risk environments. Remote tracking allows the operator to move the machine on or off the transport trailer from the ground for improved visibility and safety. The HDDs are equipped with modular mixing systems, so customers can mix drilling fluid to suit the needs of each situation.
Vermeer offers both single- and dual-rod machines. Single-rod models are suitable for most soil types. Dual-rod is best for working all day in hard soil. Among dual-rod machines, the D40x S3 and D23x30 S3 are sized for utility work.
Michael notes that although directional drilling remains the preferred choice for most jobs, crowded underground conditions are leading to more soft-dig practices in congested areas.