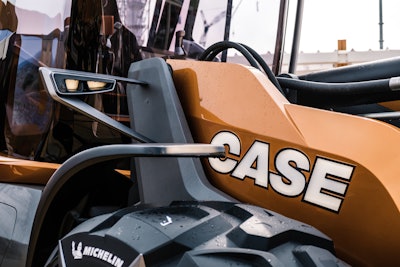 Editor's note: This article has been updated to reflect a clarification from Case Construction Equipment in North America. The original reporting reflected the information as presented.
CNH Industrial gave further details on how it would divide its on- and off-highway products into two separate companies during a capital markets presentation at the New York Stock Exchange on Tuesday. It also delved into North American construction product and dealer consolidation.
Hubertus M. Mühlhäuser, CNH Industrial CEO, says there was "a need to focus the organization and sharpen our strategic positioning in order to achieve the full potential of our strategic portfolio." This in turn involves "improving and simplifying our operations and product lineups," he says.
Forming separate on and off-highway companies will allow the company to accomplish this, Mühlhäuser says. "We saw that there was overwhelming synergistic potential between agriculture and construction equipment, and between commercial vehicles and powertrain, given the relative cost share of an engine is higher in trucks than in off-highway equipment. Also, on-highway is typically leading with emission regulation changes, making it critical to our commercial vehicle business."
Construction
On the construction side, which will now be part of the off-highway company, the emphasis will be on strengthening the company's core product offering, including wheel loaders, excavators and compact equipment. The two CNH North American brands on the construction side are Case Construction Equipment and New Holland Construction.
The company had $1.5 billion in 2018 North American construction equipment net sales and says the current market here is showing signs of softening.
Although CNH said the company would discontinue 44 models out of 172 in North America, we received this clarification from a Case Construction Equipment spokesperson: "This is not a model elimination as much as a variation elimination. There are not necessarily products or product lines going away, simply the ordering variation (SKUs). It's also important to note this only affects products manufactured in North America, and not what's available in North America, i.e. that number is specific to products manufactured in Wichita, Fargo and Burlington."
Carl Gustaf Göransson, CNH construction president, told the group that by 2022, CNH planned to eliminate and bundle product options, introduce differentiated service levels and offer customization for a price premium.
Adds Mühlhäuser: "When a customer wants to buy now he has too many alternatives when he can get a similar machine immediately from a competitor. We want to eliminate the confusion."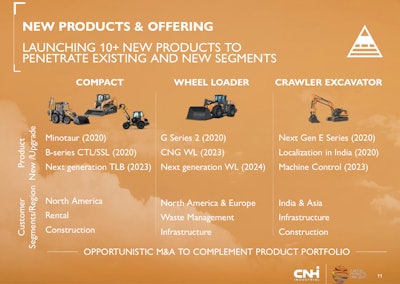 Planned 2020 construction model introductions include the Minotaur, an integrated compact dozer loader Case Construction Equipment unveiled as a concept during ConExpo 2017, the B Series compact track loaders and skid steer loaders, and G Series 2 wheel loaders.
CNH says it will reduce claims in its construction products by 25 percent and time to repair by 20 percent by 2024.
New aftermarket solutions will include a dealer e-commerce platform, reman and attachment offerings and digital and connected services.
In its compact and service equipment offerings — including backhoes, skid steers, compact track loaders and compact excavators — CNH calculates that it's at par globally in terms of market share and gross margin. It's lagging, however, in terms of market share with its general construction (wheel loaders and excavators) and road building/site prep equipment (dozers, graders and rollers).
"We see construction equipment further consolidating and we want to be in the top five," Göransson says.
By 2024, Case Construction Equipment says it will only produce 100 percent connected (i.e. with factory-installed telematics) heavy equipment in regulated markets. CNH estimates it presently has 14,000 connected machines in the field and wants to grow it to 100,000 units.
There is also the opportunity for acquisitions on the construction side if the segment shows "a sustainable track record of margin improvement," Mühlhäuser says.
Dealer consolidation
CNH is looking a dealer consolidation, announcing plans to reduce the number of dealers in North America and Europe by 25 percent by 2024.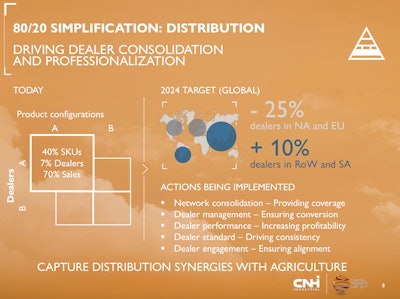 The company also wants to capture distribution synergies with agricultural dealers. Currently, there are 400-plus dealers who carry both construction and ag lines. "When clients enter dealerships, we want them to have a unique brand experience," Goransson says. "Dealer management is a key focus for us."
"There are some states in the U.S. where we're not represented the way we want to be, such as Florida where there are too many white spots," Mühlhäuser says. Examining dealer opportunities going forward, "will be a combination of consolidating and entering areas," he says. CNH will not require a dealer to have a minimum sales level, he says. More important will be how a dealer handles customer service and invests in providing digital solutions.
Adds Derek Neilson, CNH agriculture president: "We're looking for robust dealers who can invest heavily in digital."
Nikola and AgDNA
In addition to making the company separation announcement, CNH also unveiled significant plays in two verticals:
It is entering a $250 million partnership with Phoenix-based Nikola to build emission-neutral Class 8 trucks in North America and Europe. With the agreement, CNH's Iveco and FPT brands will assist in engineering and manufacturing expertise to expedite Nikola's fuel-cell and battery electric trucks. These include the Nikola One Class 8 sleeper truck, the Nikola Two, a Class 8 day-cab truck and the Nikola Tre, a European compliant cab-over truck. CNH will give further details on its Nikola partnership during a press conference in November.
It is acquiring farm management information systems firm AgDNA. CNH says this buy will enable customers owning both CNH and third-party agricultural machinery "to benefit from AgDNA's single point data integration, mapping and analytical tools."
"Our agreement with Nikola is exciting because they're really on the cutting edge on the power train side and we bring the ability to build at scale," says Suzanne Heywood, CNH Industrial chairperson. Adds Mühlhäuser: "This agreement will leapfrog our Commercial Vehicle segment and position Iveco as a true disrupter in the trucking market and open up the U.S. market to Iveco."
Management of the two companies will come from within, Heywood says, and leadership announcements will be made by the end of the first quarter next year. The separation will likely be completed in 2021.