During a recent media event, Hilti had a lot to talk about in the way of cutting and grinding tools.
First up is the new DGH 130 concrete grinder. Hilti says this variable speed system is capable of both grinding and finishing and has a new ergonomic design, placing the grip over the grinder head to deliver better control while reducing fatigue.

For grinding, the tool uses diamond cup wheels and has an adjustable hood for edges and corners. For finishing, the DGH 130 is compatible with Hilti's latest diamond finishing pads, which come in a range of grits for differing finishing requirements. The dust hood is OSHA Table 1 compliant when matched with any of Hilti's vacuums.
The DGH 130 provides 10.9 A power and has a max speed of 8,700 rpm and a minimum speed of 3,000 rpm.
Next is the AG 4S-A22 cordless angle grinder. Designed to replace corded 4.5- to 5-inch-diameter corded angle grinders, this system features a brushless motor and optimized gearing and electronics.
With a variable speed dial and disc options, the AG 4S-A22 can be used in cutting, grinding, smoothing and finishing applications across a variety of materials including stainless steel, aluminum, brass, copper, titanium, concrete and other mineral surfaces, Hilti says.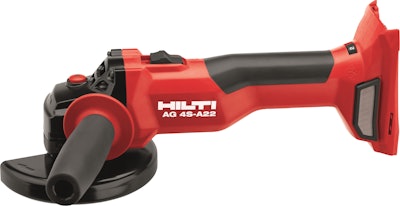 The 21.6-volt AG 4S-A22 has a 4.5-inch disc diameter with a speed range of 3,500-8,500 rpm.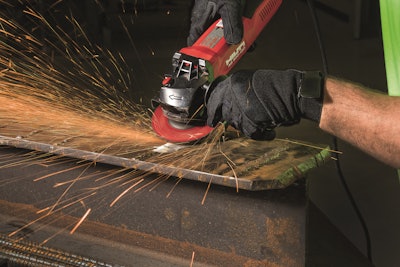 Finally, Hilti introduced new Ultimate SPX cutting and grinding wheels that offer more productivity and more wheel life for "the toughest commercial and industrial metal applications."
Hilti says the SPX ceramic grinding wheel extends wheel life by up to 2.5 times, while the cutting wheel extends life by up to 1.5 times. The wheels can be used in beveling, weld and stock removal on steel and stainless steel, as well as cutting carbon and stain and fast rough removal for weld and stock removal.
The wheels are available in 4.5- to 7-inch diameters for cutting and 4.5- to 9-inch diameters for grinding.