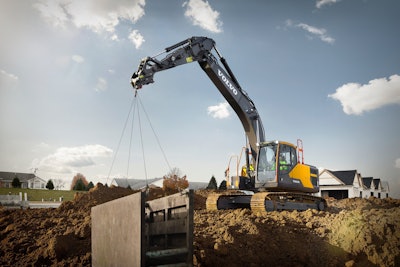 Volvo Construction Equipment has introduced a new excavator model aimed at contractors and rental houses looking for a machine larger than the 16-ton EC160E, but less expensive than the 22-ton EC220E.
The new EC200E is a 20-ton model that the company says is primarily designed for those in need of a light- to medium-duty excavator.
"This machine's size and price point make it a great new option for rental yards and for owners of smaller fleets looking to move up to take on bigger projects, particularly those in the building segment," says Sung Sook Kim, product manager excavators at Volvo Construction Equipment.
One benefit in particular to the EC200E's size, Volvo says, is the ability to transport the machine on a trailer without additional permits.
Powered by a 154-horsepower Volvo D4 engine, the EC200E has a lifting capacity of 16,138 pounds. For greater fuel efficiency, the engine features auto idling, auto engine shutdown and an ECO mode. You can read more specs in the sidebar.
The machine is fitted with X1 hydraulic piping and has an attachment management system that allows for pre-setting hydraulic flow and pressure for up to 20 attachments, Volvo says. It also supports quick couplers.
Inside the ROPS cab, operators will find a new 8-inch color display and a single dial for controlling integrated work modes that incorporate engine rpm and hydraulic flow.
You can watch a walkaround of the machine below.