Citing an increased demand for topless cranes, Manitowoc recently unveiled its largest topless model to date at the Bauma show in Munich.
"Over the past 10 years we've seen consistent growth in demand for topless cranes, with customers benefiting from their fast assembly and compact design, which makes it easier to get more cranes onto a job site to complete work quicker," says Thibaut Le Besnerais, global product director for tower cranes. "Alongside this we've seen an increase in modular construction, with contractors needing to lift heavier loads…We wanted to be sure that any new model we launch not only satisfied demand for greater capacity, but also preserved the easy transport, fast assembly and industry-leading performance our other topless cranes deliver. The MDT 809 provides all that and more."
With 40 tons of lift capacity and the ability to accommodate up to 80 meters of jib, the MDT 809 can transport in either 10 or 11 containers, Manitowoc says, which is four to five fewer containers typically required of a crane this size.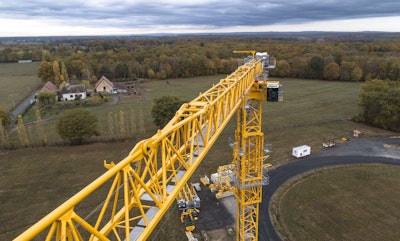 Once on the jobsite, Manitowoc says the crane assembles twice as fast as other 40-ton cranes while requiring less space. The company says with the full complement of jib, the MDT 809 can be assembled at a working height of 50 meters in less than three days.
Aiding in assembly are dedicated slinging points and jib sections that can be assembled either on the ground or in the air.
Here's Manitowoc's breakdown on the MDT 809's performance options:
From the range of regular frequency-controlled hoists, options for the crane span from the 100LVF to the 270LVF. An optional 150HPL is also offered, from the High Performance Lifting range, for the ultimate in speed and strength. These winch options give the crane a maximum available capacity of 25 t, 32 t or 40 t. Tip loads of up to 9 t are available at the 80 m maximum. With the new reinforced K-mast system, freestanding heights of up to 80 m are possible.
Users can choose from a two-fall configuration on the trolley for faster duty-cycle lifting, or four-falls for heavy lifting. Inside the cab a simple push-button solution enables the operator to activate the cable-tensioning system automatically. This is particularly useful for long-running job sites, where tensioning is required more frequently. The Crane Control System (CCS) features too, with its customizable operator profiles; simpler commissioning; load curve P+ functionality and much more.