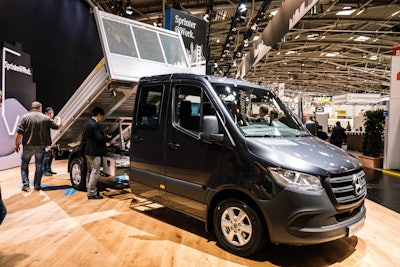 One of the many indoor exhibition halls at the massive Bauma trade show in Munich this year held nothing but trucks inside. And just about all of them aren't sold in the U.S. We've rounded up the most intriguing models we saw and executive editor Tom Jackson has provided a bit of commentary with some of them. Check out the gallery below. (Photos in this section, with captions, by Tom Jackson.)
You can check out more of our Bauma 2019 coverage here.
---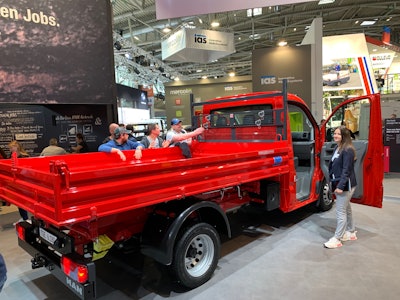 There's almost enough room in the bed of this Man TGE 6.180 three-way tipper truck to park a compact excavator. The specs say the "technically permissible gross weight" is 12,125 pounds (5,500 kg) but I have to wonder how well it pulls that weight with only 2.0 liters, four cylinders and 177 horsepower. Torque is listed at 302 foot-pounds or 410 Nm. You get six speeds with the tranny, manual to boot.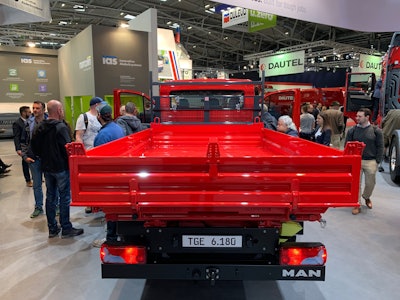 Given the shallow depth of the bed on the Man TGE 6.180, I suspect it's designed to hold sand and gravel, shovels and rakes, typical repair and maintenance cargo.
---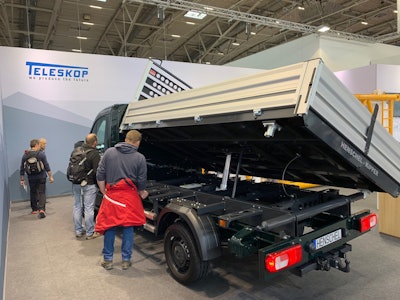 A company called Henschel Engineering Automotive, builds these three way tipper beds for a lot of the different European brands. This view shows on of their fabrications in a side dump mode.
I'm sure it beats shoveling soil, sand and gravel out the back of a truck by hand. The company has a brochure in English and they told me they've built a handful of these for contractors in the United States. So if you're interested, check them out at henschel-automotive.com.
---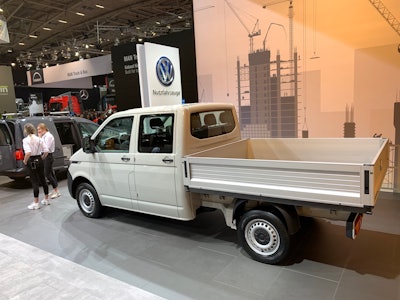 Clearly one of the advantages of these low bed-side heights on the European trucks is you don't need a step ladder to get something out of them. And by the way, "Nutzfahrzeuge" means "commercial vehicles" in German, although it sounds like a great swear word.
---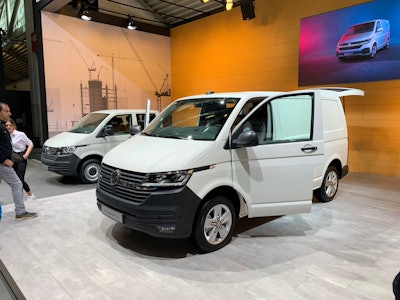 I'm not real keen on the new American vans. They seem either too big or too small for me, although I'm sure they're useful to a huge variety of tradespeople. Me? I'd be satisfied with a surfboard, a Grateful Dead bumper sticker and an old Chevy Cargo van.
So when I saw this "pre-production" Volkswagen Transporter 6.1 van at Bauma I knew there was still hope for my kind. This nice little package come with a 2.01 TDI engine, 7 speed automatic transmission and offers 200 horsepower. More info in English at the link, although VW couldn't tell us if these would be available in the United States.
The VW Transporter van contains 9.3 cubic meters of interior space and will hold up to 1.4 tons of cargo.
---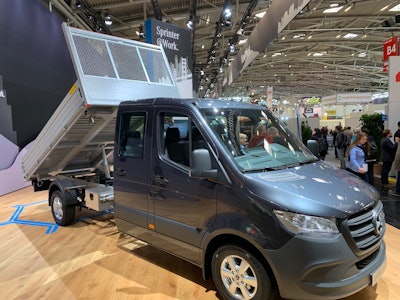 Mercedes Sprinters are not just vans in Europe. They also have a three-way dumper truck version as well, the Sprinter 316 CDI 4X2 with multiple bed lengths and body styles.
The trucks come with a 4-cylinder diesel option in three power ranges up to 160 horsepower, a 154-horsepower gasoline version and a 6-cylinder diesel engine that cranks out 188 horsepower. It has all-wheel drive and differential locking, hill start assist steering wheel gearshift paddles and it's wide enough to seat up to seven people, three in front, four in back.
Semi-autonomous features were also state of the art with hill start assist, traffic sign assist, active brake assist and downhill speed regulation, adaptive brake lights and breakdown assist. The truck practically drives itself! Nice English language website at the link although no clue as to whether we'll ever see these in the U.S.
---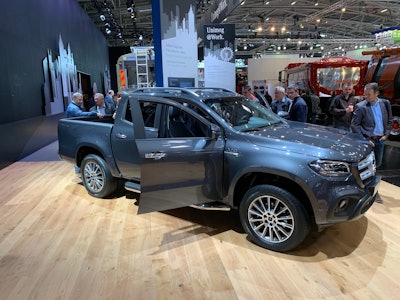 And of course if you must tool around the old country in a U.S. styled pickup truck, there is the Mercedes X-Class 350 d 4 Matic. Here you have a Nissan-sourced, 6-cylinder turbo diesel that puts out 248 horsepower and 406 foot pounds of torque. It is rated at 7,165 GVW and features all-wheel drive, differential lock paddle style gear shifters and all the semi-autonomous features mentioned earlier in the write up of the Sprinters.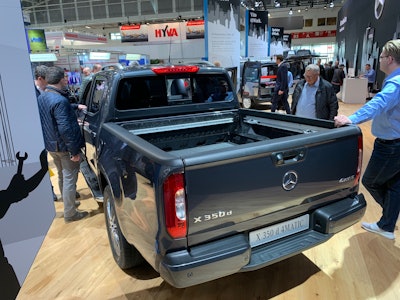 ---
Beyond Bauma's Hall of Trucks, there were plenty more to see in the surrounding halls and outdoor exhibit areas. Check out those photos, taken by Wayne Grayson, below.