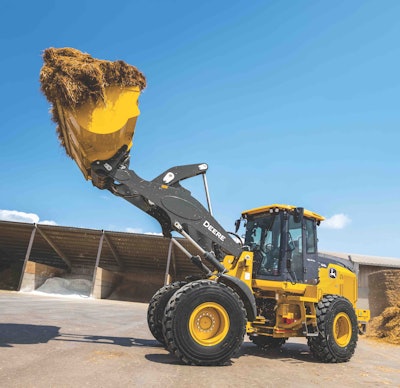 Contractors comparing the new John Deere 544L wheel loader with its predecessor 544K will notice three major changes, says Chris Cline, Deere product marketing manager for utility wheel loaders: the cab environment, electric-over-hydraulic controls and the linkage.
The 166-horsepower 544L, on display at the 2019 World of Concrete show, is one of three utility loaders updated to the L- Series. The 524L and 624L also were recently announced by Deere.
"The cab is completely new with a focus on operator comfort," Cline says. This includes an optional premium heavy-duty air suspension seat that is heated, ventilated and offers additional legroom. The HVAC system now includes a rear defrost, increased air flow and reduced noise. Three standard 12-volt auxiliary power ports in the cab allow charging of multiple devices. There's also an emphasis on functional storage for such things as lunch boxes.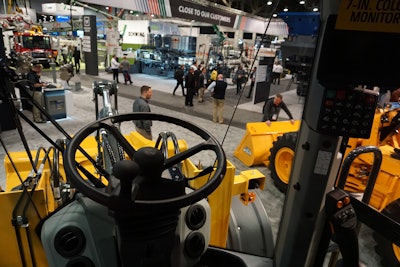 "Operators tell us they want their cab to feel as comfortable as being in their pickup trucks," Cline says.
The new electric-over-hydraulic controls allow for both operator-specific control settings, and attachment-specific settings. Two multifunction buttons integrated into the hydraulic controls can also be programmed to operator-desired settings. The seat-mounted right-hand joystick has a standard forward-neutral-reverse switch and integrated auxiliary hydraulic controls. A throttle lock option removes the need to push the throttle to maintain engine speed.
"Owners can assign operator-specific PINs, which allow operators to set up the machine the way they desire," Cline says. Up to 10 attachment settings can be programmed via the in-cab monitor. "You set everything up your way," Cline says.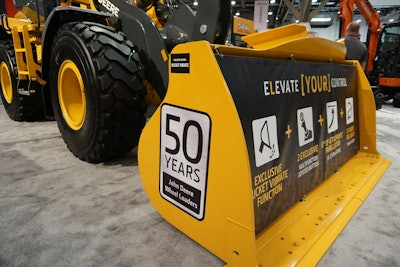 Return-to-dig settings can be set for both directions of the bucket, allowing operators to return-to-dig from any position without having to adjust the bucket to dump position. Operators can also choose either low, medium or high boom and bucket EH metering rate aggressiveness.
Deere now offers what it calls High Lift Plus (HL Plus) linkage. The HL Plus feature hinge pin heights that are 12 to 13 inches higher than current High Lift pin heights. "It's a brand new linkage for us, offering an additional foot of dump height compared with the High Lift linkage, and an additional 2 feet in comparison with the standard linkage," Cline says. "This gives customers the additional lift height without having to go to a larger machine."
In addition, the machine's full turn lift load has increased, giving the 3-yard-class 544L the ability to carry a 3 ¼-yard bucket if needed, says Cline. The loader's optional enhanced production bucket features integrated spill guards and curved side cutters that follow the curve of the heaped load, and greater rollback, improving bucket fill and material retention. The new standard parallel lift linkage improves load leveling, limits bucket spillage and increases fork operation speed, Deere says.
What hasn't changed is the drivetrain. "We've tweaked the horsepower up a bit, but it's still the same powertrain because the one the K model had was great," Cline says.