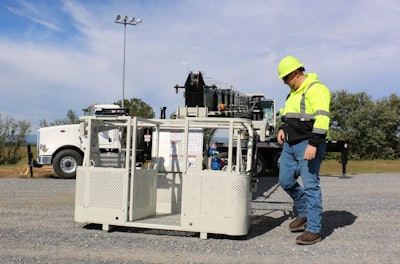 Customers of National Crane said they wanted an aerial platform for boom trucks that could be attached quickly and easily as well as be more versatile, the company says.
That led to the creation of the new Rapid Attach Platform for the company's NBT boom trucks.
The platform features a one-pin system and self-centering boom nose adapter, and it can attach at plus or minus 15 degrees.
"The ability to quickly attach this platform on uneven ground is unprecedented in the industry," says Bob Ritter, engineering manager for boom trucks. "It will give operators much greater versatility and productivity on the jobsite."
A yoke-style platform, Y-RAP2, is currently available, and a rotating style, R-RAP2, will come out later this year.
The steel platform is non-insulated and holds two workers. The basket has a 1,200-pound weight limit, and a 500-pound limit for the jib. It has a pressure intensifier option and a factory remote-control docking station.
Models compatible with the platform include the NBT40–1 and NBT50Lseries, NBT50, NBT55, NTC55 and NBT60.