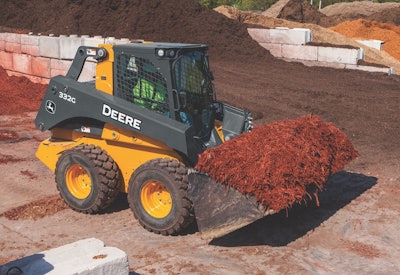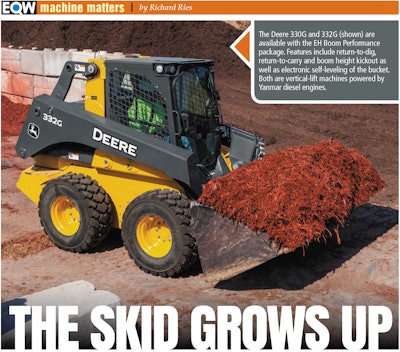 Once an upstart, the now-venerable skid steer loader has been defending itself against newer rivals and has been doing so quite effectively.
There was a time when other compact equipment was steadily chipping away at skid steer market share. Compact wheel loaders and compact excavators stole what they could grab, and compact track loaders seemed ready to loot what was left. But in recent years the decline of the skid steer market share has stopped, and sales have been mostly flat. Not growing, mind you, but flat, and that's seen as a triumph of sorts.
What realities stemmed the flow?
"Mostly it's a matter of economics," says Gregg Zupancic, product marketing manager, John Deere. Skid steers have lower initial costs than other compact equipment, as well as lower owning and operating costs. Much of that difference is due to the lower costs of tires and drive chains compared to tracks and undercarriages. Skid steers give up nothing in terms of versatility to the other machines and handle most tools and attachments as well as any of them. Skid steers usually have higher travel speeds and always have greater maneuverability.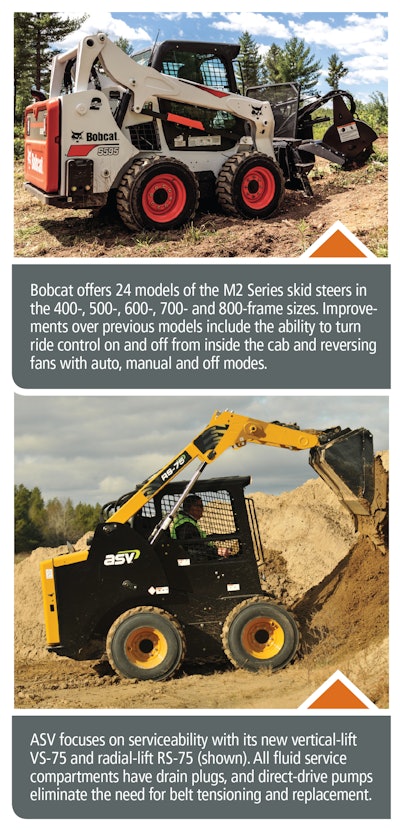 The lower O&O costs, especially the lower initial cost, make skid steers attractive for someone starting a company, says Lee Padgett, product manager, Takeuchi, "and they work well in tandem with other machines such as compact excavators."
Tim Boulds, Kubota construction equipment product operations manager, says the cost difference between skid steers and CTLs is narrower than it used to be for the original purchase, but the difference in ongoing costs remains noteworthy. Tracks and undercarriages not only cost more to replace but also cost more in daily operation. "For example, maintaining a CTL takes a little more time and effort each day to properly clean the undercarriage."
Conventional wisdom holds that skid steers are preferred for use on hard surfaces because the inevitable scuffing wears out tires instead of more expensive tracks. But Zupancic points out that skid steers are also excellent in dirt. It's only in soft, muddy underfoot conditions where tracks' higher flotation is a benefit.
In addition to cost advantages, "skid steers offer universality thanks to the many different attachment options," says Lars Arnold, global products manager, skid steer loaders, Volvo Construction Equipment. "Skid steers are the perfect mobile hydraulic unit." Arnold says speed rounds out the triumvirate of features that keeps skid steers relevant since so many applications, from load-and-carry to snow removal, place a premium on speed.
Ever better
Manufacturers have defended their skid steers against other equipment by continually improving the product.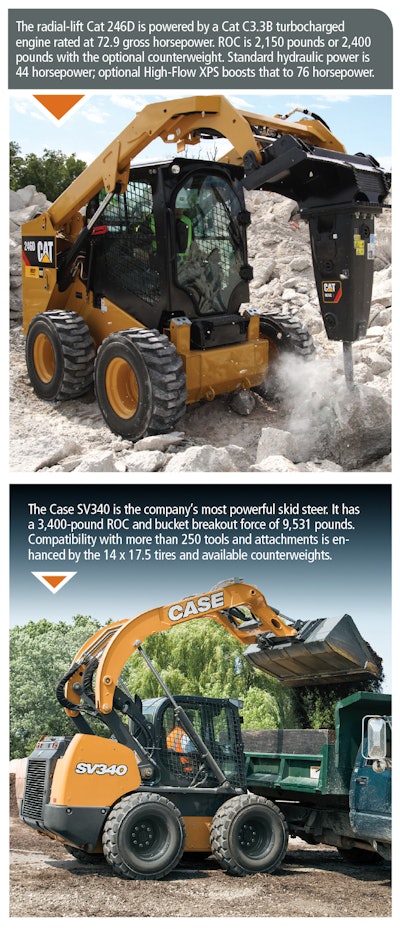 ASV simplified its offering by going from a four-model lineup to two, the radial-lift RS-75 and vertical-lift VS-75. ASV design hallmarks carried forward: direct-mount Rexroth pumps eliminate belts and pulleys, and wheel hubs have metal face seals instead of rubber for improved durability. Despite a long, successful history building CTLs, ASV took a clean-slate approach to skid steers.
"The frame and geometry are optimized for a skid steer," says Buck Storlie, product line manager, ASV. "Weight balance is also optimized for a skid steer with 30 percent on the front and 70 percent on the rear. With a CTL you strive for a 50/50 weight balance."
The skid steer is also narrower, making it easier to transport. But ASV also emphasized parts commonality between the two platforms to make life easier for customers.
The newest and largest model in the Case lineup, the SV340, has a 3,400-pound ROC at 50 percent of tipping load. Available high-flow hydraulics provide 35 gallons per minute and 4,000 pounds per square inch of pressure.
"It's that psi that's critical in the operation of really heavy-duty attachments such as cold planers and mulching heads," says Deborah Townsley, product marketing manager, Case Construction Equipment. The SV340 also features a cab-wide rearview mirror, "which seems like a minor detail but speaks to the importance of the operator environment."
Volvo D Series machines have a number of improvements over their predecessors, says Arnold. Redesigned arms provide more strength and rigidity with efficient load distribution, and the single-arm design yields 270 degrees of visibility, which is 60 percent more than that of traditional two-arm machines. Lifting capacities are higher. The ROPS/FOPS high-spec cab includes a larger door, which, along with the side-entry allowed by the single-arm design, makes it even easier to get in and out of the machine.
Electronics as enabling technology
Nathan Ryan, product manager, Wacker Neuson, says electrohydraulic machines with controls that switch between ISO- and H-patterns allow operators to choose the pattern they are most comfortable with, improving both efficiency and safety. To further improve operator efficiency, Wacker Neuson's creep mode limits drive speed to 60 percent of maximum speed for refined machine movement.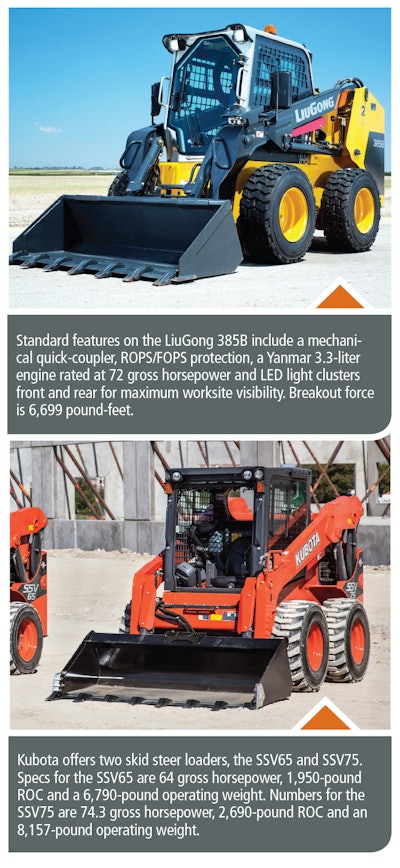 Onboard grade indicate is available on G Series skid steers from Deere. The system shows both side-to-side and fore-and-aft grade and can display both absolute and relative grades. Deere's Boom Performance Package is available for joystick-equipped machines and includes programmable return-to-dig, return-to-carry and boom height kickout functions. It also provides self-levelling when raising and lowering the bucket.
Kevin Coleman, product specialist, Caterpillar, recites a long list of improvements to Cat skid steers in recent years, many relying on sophisticated electronics. The dual self-level system provides load control in both raising and lowering. The work tool positioner has a memory function to return the tool to a desired angle at the touch of a button. That's "useful where a repetitive angle enhances productivity and consistency, such as trenching, using forks or a wheel saw or cold planer and when back-dragging with the bucket," Coleman says.
The foot throttle pedal acts as a deceleration pedal when the electronic dial-controlled hand throttle is set to high idle, allowing the operator to use the foot pedal to decrease engine speed when using attachments or to meet specific operating conditions. Throttle smoothing prevents lurching when the throttle pedal is used on rough terrain.
The ride control feature on M2 Series skid steers from Bobcat has distinctive design elements. "Rather than responding to travel speed, Bobcat's system has pressure sensors in the lift cylinders responding to fluctuations in pressure resulting from operating conditions," says Jorge DeHoyos, senior product manager, Bobcat. The system can be toggled on and off while the machine is in motion.
Even machines without electronics are seeing improvements. A change to the hydrostatic pump on Bobcat skid steers with standard controls results in 25 percent less lever effort, so operators who prefer the feel and function of mechanical controls also benefit from design changes.
Other advances

Bobcat M2 Series models have side-screen dampers to reduce noise and rattle. Improved cab isolation materials maintain their performance longer. The top window has 34 percent more viewing area than previous models, especially helpful when loading trucks. Optional side-light LED kits are available for models from the 500 level and up and can be field-installed. The S850, Bobcat's largest model, went from 92 to 100 horsepower.
The newest addition to Cat's offerings is EquipCoat, a clear anti-corrosion coating option for customers working around corrosive substances such as salt and drilling fluids. "While EquipCoat won't completely eliminate corrosion, it will extend the useful life and appearance of equipment," says Coleman. "Properly maintained, EquipCoat can last for several years, protecting machine and components, and may increase resale value."
It's not just the machines that are improving.
"Kubota has tripled the number of attachments we offer in the past two years," says Boulds. "The range of hydraulic and nonhydraulic tools and attachments further enhance skid steers' versatility and reduce the need for other dedicated equipment to do work that can be done with those attachments."
Warranty wars
We've mentioned the warranty wars for compact equipment, and skid steer loaders are part of that fracas. Some manufacturers have made no changes, but many have.
In January 2018, Caterpillar moved from one year with unlimited hours to two years or 2,000 hours.
Wacker Neuson now offers a 3-4-5 warranty on all skid steers and compact track loaders: three years or 3,000 hours full machine coverage, four years or 4,000 hours on the drivetrain (including the engine), and five years or 5,000 hours on the entire electrical system.
Several manufacturers offer extended warranties or custom warranties. Kubota's standard warranty is two years or 2,000 hours, but customers can purchase a one- or two-year extended warranty plan, thereby potentially ensuring coverage for up to four years or 4,000 hours.
Coleman, with Cat, says customers can speak with their dealers to explore the full range of extended Equipment Protection Plans available to them.
As OEMs adjust their warranties, it's common to see a move from fewer years with unlimited hours to more years but with a set maximum of hours. Why? Typical skid steer customers run the machines around 500 hours a year, so offering 1,000 hours per year of coverage doesn't reduce the coverage. But it does protect manufacturers from claims resulting from high-hour applications, especially those in environments such as steel mills and fertilizer plants where ambient conditions attack equipment.
The one thing
Acknowledging that skid steer customers are sophisticated and understand their needs and market offerings, we asked our experts what one thing they'd recommend to further improve customer satisfaction.

Basics, such as reading the owner's manual, are still important, says Storlie. "We all like to think we're experts, but each machine is unique. The manual will give you machine-specific insights on operation, maintenance and more."
"Look for easy access to routine maintenance items and daily checks," says Coleman. "Look for features that make operation easier and more productive. These features can save time and money and can help turn novice operators into skilled operators."
Ryan says to consider all the costs and technology associated with modern Tier 4 Final machines, such as downtime for regeneration and replacement of diesel particulate filters, where applicable. "Make sure you're estimating the total cost of ownership for the specific machine you're considering."
"Don't buy more than you need," says Zupancic. For example, he says, the take rate for high-flow hydraulics is much higher than the percent of attachments requiring high flow would indicate. High flow can't be added later, and customers may just be trying to future-proof their machines. "But if you never use it, it's a dead loss because you've already paid for it." He says some of the cost may be recovered in higher residual value when the machine is sold, but you can't count on that, and you're still losing a portion of that front-end cost.
"A big part of total cost of ownership is determined by what and how much you can bill your customers for the use of that machine," says Townsley. "The more you can utilize and bill for that asset, the lower its cost of ownership." She says customers should spec their machines with the hydraulics, options, capacities and lift patterns to make them the most versatile for the work they'll do.
"The right skid steer with the right attachments will minimize the need to purchase other dedicated equipment and will boost productivity and profit margins," Boulds says.
Get answers to the right questions so you can properly configure your machine, says Arnold. "What weights will you be carrying? That determines ROC. What attachments will be used with this machine? That determines three-way or seven-way controls and standard or high flow." Continue in this way until you've matched every aspect of operation with relevant machine specs.
Padgett says feature selections can be grouped into three areas: applications, terrain and feature set.
And finally, "Skid steers are going to stay around," says DeHoyos. "They're the equipment of choice where speed, agility, durability and versatility are required. There will always be demand for what they offer."