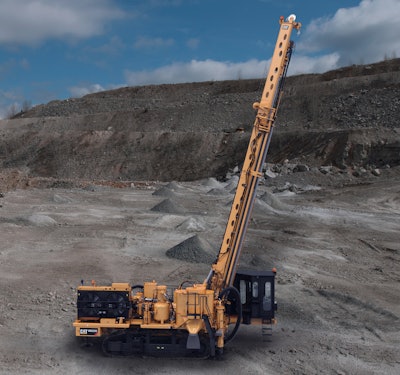 Cat says its new MD6200 rotary blasthole drill is its most transportable model yet, packing a lot of versatility into a a small package.
Designed to perform rotary or DTH drilling in single- or multi-pass modes, the MD6200 is powered by a C18 engine. Cat says the drill has enough power to "meet the needs of any mine site."
The machine can drill holes between 5 and 7.87 inches in diameter.
High- and low-pressure compressor configurations are available and offer variable volume air control, matching compressor output to the drill tool and application needs.
Fuel efficiency is improved thanks to the system's ability to lower stand-by pressures when the machine is idle.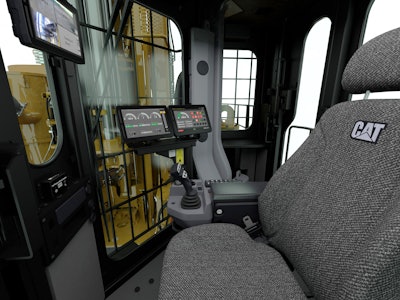 Transportable over the road with its mast on, the MD6200 moves between jobsites with ease and also has the smallest shipping envelope of any drill in its class, Cat says. In some configurations, the MD6200 shipping envelope can be removed without the use of lifting tools, allowing only two people to prepare it by hand for shipping.
Cat adds that the machine has "best-in-class" maneuverability with a compact working envelope and a powerful 336 excavator undercarriage. The combination, Cat says, delivers faster positioning and less time spent accessing drill patterns and moving between holes.
Inside the cab, operators will find ergonomic controls with a multifunction joystick and touchscreen. Three machine-mounted cameras come standard and a heated, ventilated, suspension seat and dual-pane glass are available options.
Drill Assist, a technology suite which includes auto level, auto retract jacks, auto raise and lower mast and auto drill, is also an available option.