Polaris designed its new lineup of UTVs for work in all kinds of environments – with industry-leading payload of 1,930 pounds and a 2,500-pound towing capacity.
The line of utility task vehicles consists of the four-passenger PRO XD 4000D with all-wheel drive and the two-passenger PRO XD 2000D with either two-wheel or all-wheel drive.
Polaris says it incorporated feedback from commercial and military customers in designing the PRO XD models for durability, safety and easy service.
They run on a 24.5-horsepower Kubota Tier 4 Final industrial diesel engine, reaching a top speed of 26 mph. The UTV's speed can also be limited for jobsite compliance. The engine braking system delivers slow decent down hills.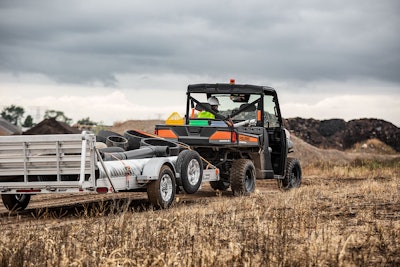 To boost towing and payload capacities, the company designed a new rigid-frame chassis and boosted suspension. The bed is made of rust-free, dent-resistant composite and is large enough to fit a full-sized pallet. Driveline components are also made to resist corrosion.
The 26-inch hard-surface jobsite tires are puncture- and wear-resistant; a heavy-duty clutch improves belt life; and the seat material is designed to resist punctures and tears, the company says. The tires are nondirectional, all the same size and designed for easy replacement.
To improve serviceability, Polaris doubled maintenance intervals to 200 hours and added a digital display with alarms to notify the operator of such issues as low oil pressure, parking brake engagement, belt burn and engine overheat.
The UTVs have side access to the air filter and dipstick, and front air intake for cleaner air ingestion, the company says.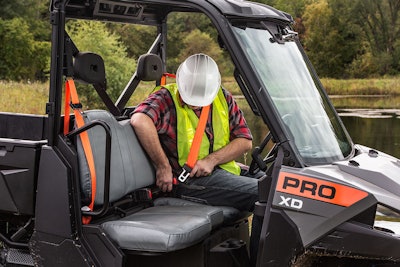 The optional cab is fully sealed to keep out dust and reduce noise. The UTVs come standard with backup alarm, horn and parking brake. They can only start in Park with the brake engaged. The company says it added the industry's largest foot wells for easier entry and exit and gave the vehicles orange seatbelts and decals to improve their visibility on the jobsite.
Polaris also says it made it easier to add electronic accessories, such as lights and radios, to the UTV's power source.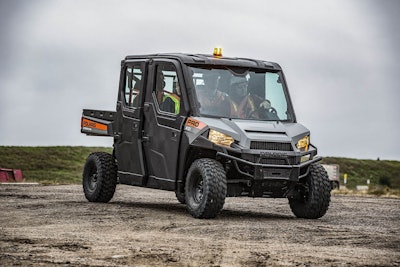 Quick Specs
Size/Capacity PRO XD 2000D PRO XD 4000D
Height 75 inches 75 inches
Width 62.5 inches 62.5 inches
Length 126 inches 157 inches
Towing 2,500 lbs. 2,500 lbs.
Payload 1,900 lbs. 2,075 lbs.
Seating 2 people 4 people
Weight 1,595 lbs. 1,925 lbs.