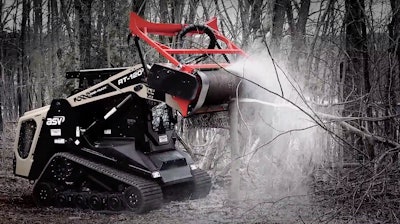 Prinoth's new mulching head, the M450s, not only dispatches quickly with brush and small trees, but also provides "a pleasurable work experience," the company says.
It is designed to quickly and easily fit any make and model of skid steer that produces 80 to 150 horsepower and hydraulic flows of 26.4 to 52.8 gallons per minute.
A 107-cc Rexroth hydraulic motor with high-pressure variable displacement drives the rotor, which is connected by a cogged belt drive. Hydraulic hoses with standard fittings are included.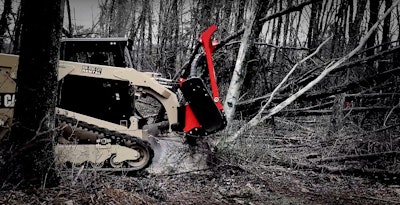 The rotor has optional carbide teeth or steel knives. Prinoth says the rotor is equipped with its Bite Control System (BCS), which is designed to work at high speed and reduce wear on bearings.
The M450s is designed for safety, with good visibility of the working area and the mulching head, a point of gravity close to the skid steer to prevent tipping or rollover, and anti-slip stripes on top of the housing and two steps for safe access to the skid steer, the company says.
Prinoth says it is launching the mulching head first in North America.
For a video of the M450s in action, see the video below: