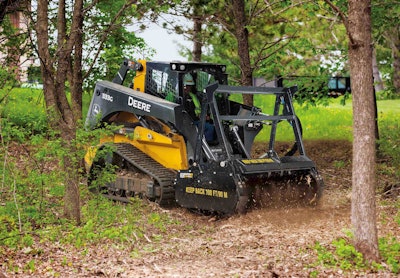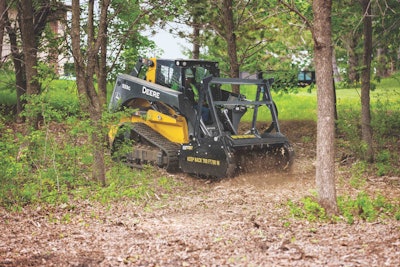 John Deere calls its new MH60D mulching head for skid steers and compact track loaders "a jobsite beast that easily takes big bites out of trees and stumps."
The attachment produces a 60-inch-wide cut, has 30 double-carbide teeth and can remove 8-inch trees and 12-inch stumps with ease, the company says. It also mulches underbrush and wooded materials within minutes and can delve under the soil for chewing out stubborn stumps. It works with Deere and competitors' equipment.
The hydraulic system has two speeds. Operators can preset the hydraulic pressure level, and when that level is reached, the motor will automatically shift to a higher displacement. Torque will increase to reduce stalling and increase rotor-speed recovery time, Deere says. Operators can monitor hydraulic pressure by the attachment's pressure gauge.
The MH60D features internal counter-combs that help shatter incoming material into finer mulch. The rotor is balanced for smooth operation, creating less drag and using less horsepower, and rotor bearings are oversized for durability, the company says.
For cutting down a tree or large brush, the MH60D's three-position heavy-duty push bar helps protect the carrier from damage. Deere says it also designed the door cylinder inside the frame body for better protection, and it enhanced the frame and added bolt-on skid shoes to reduce debris buildup and increase durability.
Knife tools are available options for smoother cutting and creating a finer chip size.