Skyjack has entered the compact telehandler market, but it says it has done so without sacrificing cab space.
The company says its new SJ519 TH offers best-in-class cab size. The "little big cab," as the company calls it, also features a door that fully opens so operators can have easier entry and exit.
Product Manager Braden Spence tells Equipment World the cab was designed with increased width and more legroom for the operator. It also features the company's FlexCab, allowing it to be converted from an open to a closed cab using standard tools. And the flat-pane cab glass can be bolted on or off for quick, easy replacement. Because the operator space is so roomy, tilt steering is not required as a standard feature, Spence says.
The SJ519 marks the sixth telehandler in Skykack's TH Series, which it debuted in 2016 to replace its VR lineup. The series, including the SJ519, features a 74-horsepower, Tier 4 Final Deutz engine that does not require a diesel particulate filter, diesel exhaust fluid or any exhaust aftertreatment.
It has the same quick attach design as the other TH Series models, and the company offers an optional Hydraulic Carriage Connect that enables operators to switch carriages or attachments without leaving the cab.
The SJ519 also features hydrostatic drive and Dana axles. An engine block heater is standard.
Other standard features on the SJ519 include a multi-function engine display, a case rear counterweight with hitch pin and a yoke-mounted lifting hook for under-slung loads.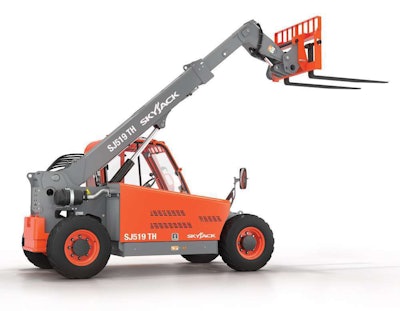 The SJ519 has a lift capacity of 5,500 pounds, and 4,400 pounds when at maximum lift height of 19.1 feet. (The lift height is indicated on the last two digits on the model.)
SJ519 has a maximum reach of 11.25 feet and max lift reach of 1,900 pounds at that extension. Its overall weight is 10,500 pounds. Its standard auxiliary hydraulics produce up to 18 gallons per minute of flow and 3,900 pounds per square inch of pressure.
Skyjack says it also focused on making maintenance simpler with service points easy to access.
The telehandler is slated for the rental market in the third quarter of 2018, the company says.
"The addition of a compact telehandler means that Skyjack is now positioned to compete in a whole new class of telehandlers," says Barry Greenaway, product manager.