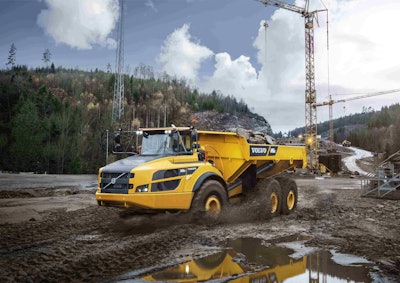 Volvo Construction Equipment has added increased tonnage to its G-Series articulated dump trucks with the addition of the A45G.
"We have taken the industry's best lineup of articulated haulers and made them better by increasing payload capacities and including a range of new features that make them even safer and more efficient than before," says Eric Fatyol, GPE products manager, Volvo CE. "The newest addition to the line — the A45G — holds an advantage in that it's capable of 45-ton payloads, but is built upon a dimensionally smaller, lighter and more agile platform than other 45-ton trucks — making it more nimble, more off-road capable and more fuel efficient."
The A45G, along with the A35G and A40G, now has On-Board Weighing as standard. It's a fully automatic feature that needs no intervention from the operator, the company says. The dump truck operator and excavator operator are notified by three load indicator lights when nominal load has been met, and they are signaled with warnings in the event of overloading. Actual tonnage is displayed on the in-cab Contronics display.
The G-Series, built on the same platform of previous Volvo articulated dump trucks, feature hydro-mechanical steering, Automatic Traction Control, 100-percent differential locks, and can work in 4×6 and 6×6 drive combinations. The A45G FS offers fully hydraulic suspension on all wheels. Both the A45G and A45G FS feature the Volvo D16, 16-liter, Tier 4 Final engine with 469 horsepower.
Volvo says the three smallest machines in the G-Series have been given increased capacity, with the A25G at 27.5 tons, the A30G at 32 tons and the A35G at 38 tons.
The three smallest of the G-Series machines now have a 1-ton higher capacity than before, including: Volvo A25G at 27.5 tons, A30G at 32 tons and A35G at 38 tons. The A40G remains at 43 tons, and the new A45G / A45G FS has a 45-ton capacity. The A45G and A45G FS are powered by the latest Volvo D16, 16-liter, Tier 4 Final engine, which boasts 469 horsepower (350 kW).
Other features of the G-Series include:
Volvo Dynamic Drive. The company says this offers improved gear shifting that factors in payload and slope gradient, with the machine automatically detecting when to select a higher starting gear or when to shift up earlier.
Dynamic Volvo Engine Brake. Torque and shift points can be dynamically adjusted against the current load, inclination and rolling resistance to improve brake life due to the break and retarder pedal being used less frequently when going down hill.
Hill Assist. This holds the hauler in place on steep slopes without requiring the parking brake be engaged and automatically activates at a complete stop on a hill.
Dump Support System. This feature provides percentage side inclination to the operator and sets parameters for safe dumping, with off, on with an alarm, and on with an alarm and a complete bed stop configurations.