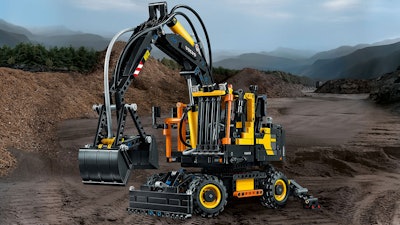 Lego and construction equipment go together like peanut butter and chocolate. In my opinion, there's nothing that better illustrates the complexity of heavy equipment design while also bringing out the excitement in building something and the critical thinking skills required to do so, better than Lego.
Luckily, Lego is as much into construction equipment as we in the construction and heavy equipment industries are into Lego.
Over the last several years, Lego and heavy equipment manufacturer Volvo Construction Equipment have built a very close relationship. As we saw with the release of the Volvo L350F wheel loader Technic set, rather than just letting each collaboration between the two companies turn into a bland licensing deal, Volvo engineers and Lego designers work closely on each Lego version of Volvo's machines in order to build in as much detail as possible.
The latest collaboration between the two companies is the Volvo EW160E and this wheeled excavator features the same impressive attention to detail. Larger sets, like the L350F and the EW160E can be pretty pricey. But they're a project that literally the whole family can join in on and help with. Plus, both of these sets can be rebuilt as a second machine. The L350F can be disassembled and rebuilt as an A25F articulated hauler, while the EW160E can be rebuilt into the L30G compact material handler.
Lego was kind enough to send along a sample set of the new EW160E and my wife and I spent a weekend putting it together with our niece and nephew. At more than 1,100 pieces this excavator isn't the largest set we've tackled, but many of those pieces are small, so there is an understated challenge to building this machine.
Another fun element to this set is connecting all of the pneumatic lines that weave throughout the machine and make the boom and grabbing bucket completely functional. This model also features a functional blade and, because it's a Technic set, when it's paired with Lego's Power Functions 8293 motor set, everything becomes motorized and the machine can be equipped with working lights.
It's hard to recommend a construction-related gift more than this one as it can be enjoyed as a project alone or with the family, is a fun challenge, has a lot of replay value since it can be rebuilt into the material handler, and results in a cool model for your desk or office. It's a gift that literally keeps on giving.
The Lego Volvo EW160E wheeled excavator Technic set runs for $120 on both the Lego store and Amazon.