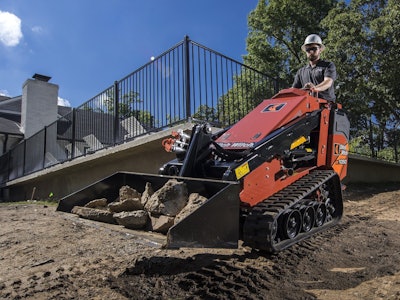 Aimed at construction and landscaping contractors who don't necessarily need all of the lifting power of a compact track loader or skid steer and are looking for a machine that's not only cheaper but easier to trailer and hop on and off of, Ditch Witch has introduced the SK1050 mini skid steer.
The largest machine in the Ditch Witch mini skid steer lineup, the SK1050 offers a rated operating capacity of 1,062 pounds. The machine's 37-horsepower Yanmar engine directs 30 hp to attachments like buckets, trenchers and augers, while hydraulics contribute 15 gallons per minute of auxiliary flow and 3,625 psi.
The machine also boasts an 83-inch hinge-pin height, which Ditch Witch says is the best in its class.
"With boosted power, added versatility and increased durability, the machine provides operators peace of mind that they can get any landscape, hardscape or irrigation job done effectively and efficiently, while adding to their bottom line," says Ditch Witch compact equipment product manager Chris Thompson.
In addition to the machine's power boosting cycle times over previous mini skid steer models, the 74-inch platform is at the foundation of a stable operator's station that is quicker to mount and dismount than climbing into and out of a CTL or skid steer cab.
The station features an auxiliary control pedal which frees your hands to control depth and ground speed, as well as a display that provides engine diagnostics and performance metrics.
The SK1050 design offers easy access to the machine undercarriage and has no daily maintenance points or grease zerks.