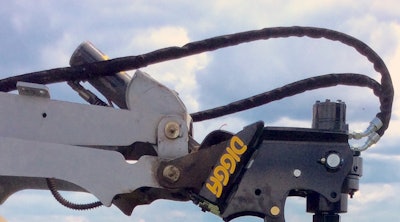 Digga, long-time manufacturers of planetary gearboxes and drives for attachments, have released a pair of new auger drives for use on mini loaders and compact tool carriers.
Digga says the new 1MDS2 and 1MDS4 auger drives deliver more powerful performance than comparable units and work on auxiliary flows between 6 and 16 gallons per minute. A unit-specific mounting plate is included.
The 1MDS2 features a single axis, two-way swing (forward and reverse) and is designed for simpler applications, while the 1MDS4 features dual axis, four-way swing (forward, reverse, left and right).
All Digga drilling drives are covered by a five-year warranty on the planetary gearbox, a three-year warranty on the hydraulic motor and a lifetime shaft pull-out warranty.