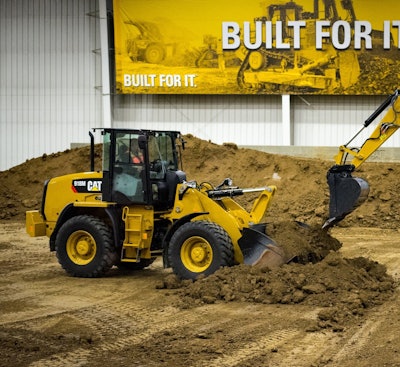 Cat will offer the 918 compact wheel loader for the first time in 30 years.
Acknowledging it as a "gray area" machine, Caterpillar is reintroducing the 918 wheel loader, absent from its compact wheel loader lineup since the early 90s, to the market.
"We're providing a smaller frame than the 926, but still in a really powerful machine," says B.J. Meier, Cat's compact wheel loader product manager. "The 918 is a unique machine because it does sit in that gray area between what is considered a small machine and a compact machine."
The new 918M joins the 910M and 914M, which have also been updated, in Cat's compact wheel loader lineup. All three machines are powered by a Cat C4.4 engine producing 115 horsepower in the 918, and 74 hp in both the 910 and 914. Full specs are below.
The Tier 4 Final C4.4 uses a selective catalytic reduction (SCR) system and only requires the addition of diesel exhaust fluid (DEF). Fuel saving features include an ECO mode, auto engine idle shutdown and an optional on-demand cooling fan.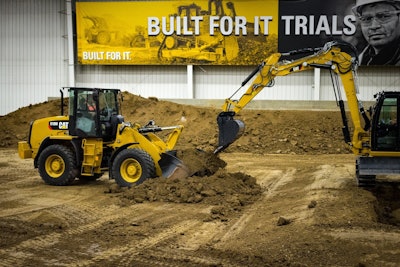 Performance
Meier says the three new loaders offer larger buckets, higher forces, greater load capacity, more axle capacity and increased auxiliary flow over their predecessors.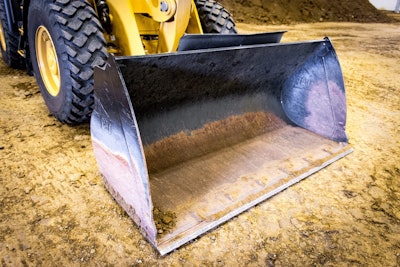 Cat has implemented its Optimized Z-bar loader linkage on all three machines. This enhanced Z-bar is designed to deliver the high breakout forces of a conventional Z-bar linkage while also providing the parallel lift and load-handling capability of a tool carrier.
An integrated Tool Carrier coupler is an available option.
Cat's Performance buckets come standard on the machines and offer 10-percent higher fill factors and improve loading times by 15 percent, the company says.
The 910 and 914 feature intelligent power management systems able to increase power in high demand situations such as climbing a steep grade or using a high-flow work tool, Cat says. High-lift booms are available on these two loaders and provide 14 inches of added clearance.
Operation
Inside the cab, operators will find an updated environment with two side-entry doors, joystick loader controls, suspended pedals, tilt steering wheel and an air suspension, heated seat. The joystick
accommodates controls for two-, three- and four-valve hydraulic systems. A rearview camera and LED light package are available options.
Operators may also find the following features helpful:
Rimpull Control: Allows operators to reduce tire slip in poor underfoot conditions with four settings to choose from, based on conditions.
Variable-Speed Creeper Control: Permits control of ground speed independent of engine speed through the left pedal which functions as an inching pedal during the first half of its stroke.
Return-To-Dig: Automatically repositions bucket to a desired position for the next loading cycle.
Lift Kickout: Stops the loader arms at a predetermined height.
Ride-Control: An optional feature which utilizes the boom cylinders as dampers to smoothen a ride over rough terrain.
The 910M, 914M and 918M will begin shipping in July.