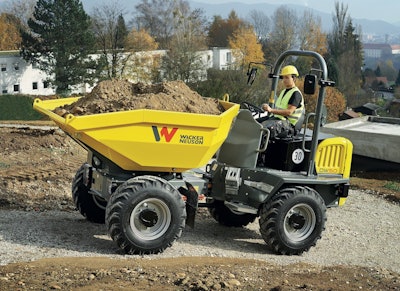 Citing increased adoption of wheel dumpers over smaller trucks on jobsites with difficult terrain or other conditions, Wacker Neuson has unveiled a prototype that makes its DW50 a bit more truck-like.
Shown at the recent Bauma show in Munich, the dual view DW50 concept dumper allows the operator to face either the load or what is typically the rear of the machine by rotating the entire console 180 degrees.
On the prototype DW50 shown at the show, a rotating assembly was loaded beneath the seat and allowed for rotation in just a few seconds.
Once rotated, the dumper operates like a mini dump truck and eliminates the for the operator to turn around in tight spaces.
Wacker Neuson says it is presenting the dual view DW50 to gather customer feedback as it studies whether or not to bring it to market.
The DW50 has a 5-ton payload, joystick control and travel speed of about 17 mph.