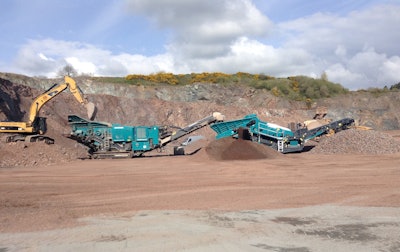 A new, electrically driven Warrior 1400XE mobile screen from Terex Powerscreen debuted at Bauma last week. The choice of electric drive was dictated by environmental concerns and the desire for low cost output, say company officials. As a bonus, the machine can be run indoors.
The Warrior 1400XE is designed similarly to the 1400X model with a single shaft, high amplitude 12-foot by 4.5-foot screen box and a chassis riser option for stockpiling capacity. Depending on feed rates, the output capacity runs up to 551 tons per hour.
The all-electric screen can be powered with it's own 72kVA generator or be connected to a main electricity supply. It can also be powered the electricity generated by other Powerscreen models such as the Premiertrak 600 crusher with only a slight draw on the crusher's fuel consumption.
In regions of the world where high altitudes or high ambient temperatures prevail it can be powered as part of a machine train operating from a single gen set.
Powerscreen's Premiertrak 600 jaw crusher features a 47 inch by 32-inch jaw chamber with a fully hydraulic CSS range of 3 to 8 inches and a reversing system to clear blockages.
High production rates are achieved by an aggressive stroke and high inertia flywheels. High capacity jaws are fed by a vibrating grizzly feeder with variable speed control. The Premiertrak 600 produces up to 661 tons per hour of material.