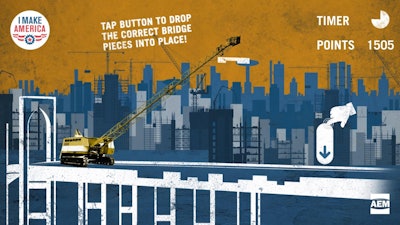 Hoping to reach the electorate on issues related to manufacturing during this chaotic election cycle, the Association of Equipment Manufacturers have released a game for smartphones and tablets.
The I Make America Game, named for the AEM campaign launched in 2010, first presents users with one of several construction and agricultural equipment-themed mini-games before testing their knowledge of political manufacturing issues with a set of multiple choice questions. Issues covered include infrastructure, trade and renewable fuels, according to an AEM announcement.
The game is available as a free download for tablets and smartphones on both Apple's iOS App Store and the Android Google Play store.
AEM also plans to take the game on the road with plans to travel to more than two dozen U.S. manufacturing facilities. Employees at these facilities will have the chance to compete for prizes, including a 3D television.
Since launching the I Make America campaign nearly six years ago, AEM says tens of thousands of supporters have signed on. Last year the campaign generated 150,000 emails to members of Congress and other elected officials, AEM says.